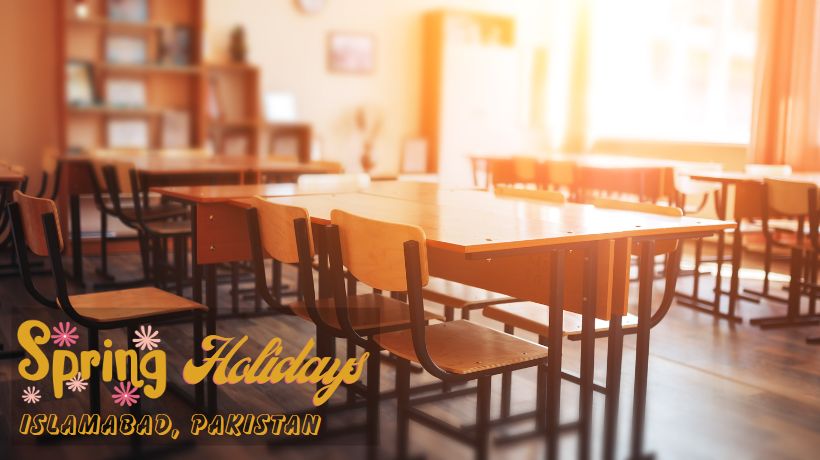 On the commencement of the new academic session 2023 – 24 a notification has been issued by the Federal Directorate of Education (FDE) about the spring break. This notification is issued on March 29, 2023.
According to this notification Spring Break in all schools and colleges shall be observed in the last week of Ramadan i-e from April 17, 2023 to April 20, 2023, due to priority tasks pertaining to the paper marking of Centralized Annual Examination for class 5th and 8th Admission / Registration process and pre-board exams of SSC and HSSC.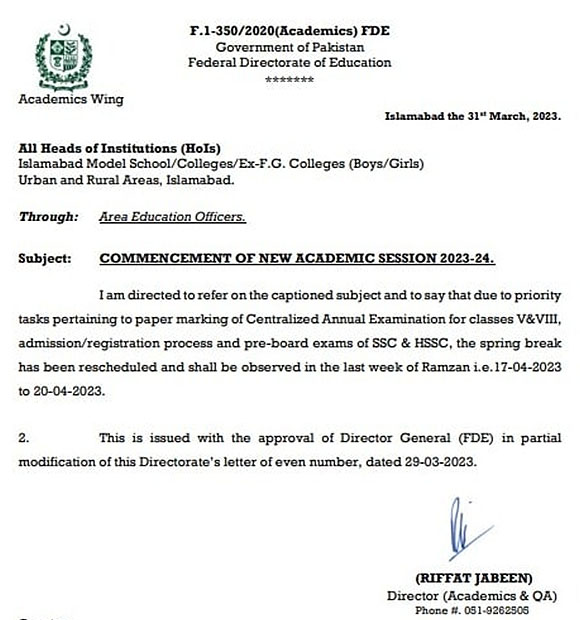 These spring holidays will be coupled with the eid holidays. Students will have long eid holidays this time due to this reason.
Ramadan Timings
In addition, during this month of Holy Ramadan the Federal Directorate of Education (FDE) has announced the Ramadan timings for all educational institutes including Islamabad Model Colleges and FG Schools. Which is as follows.
1. Time Schedule for Single Shift Institutes
Ramadan time in single shift Institutes on Monday to Thursday is from 8:00 AM to 1:00 PM. Friday time is from 8:00 AM to 12:00 PM.
2. Time Schedule for Double Shift Institutes
In double-shift Institutes, the starting time for morning shift is 8:00 AM and closing time is 12:30 PM from Monday to Friday.
Timings for evening shift in double-shift institutes are from 12:45 PM to 5:15 PM on Monday to Thursday, and the timings on Friday will be from 2:00 PM to to 5:15 PM.
3. The schedule for the Ex-FG Colleges is also announced
Ex-FG Colleges will open at 8:00 AM and close at 1:00 PM from Monday to Thursday. Friday timings will be from 8:00 AM to 12:00 PM during Ramadan.