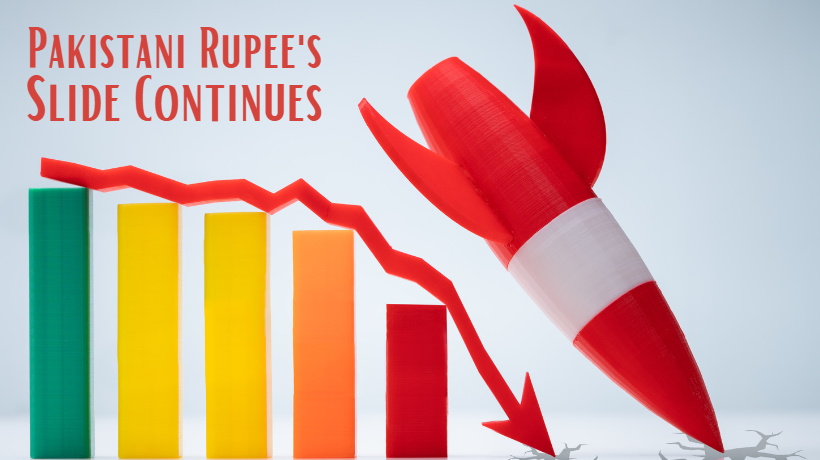 A brief recent history
Seven months ago when so called Pakistan Democratic Movement (PDM) took over, after ousting the former Prime Minister Imran Khan, the Pakistani Rupee stood at Rs. 178 against US Dollar. It was even stronger before the news of planning to oust Imran Khan and the political instability the news caused. You can say it was resting at Rs. 168 against USD.
Later on after PDM, the thirteen party alliance, took over the country, for few days Rupee started getting stronger and touched 172 from 178 previously, as PDM had made lots of promises to revive the economy and take solid steps to deal with inflation. But later on when people realized that Pakistan Muslim League Nawaz (PMLN), a member party of PDM is not being able to control the economy and also is not able to control inflation, with the economy going downward the Rupee's slide again started.
Miftah Ismail as Finance Minister
Miftah Ismail was the new finance minister, he who had given statements like no one in Pakistan is able to pay Rs. 130 or Rs. 160 for petrol, so govt should not increase price further from 130, in era of Imran Khan's party Pakistan Tehreek-e-Insaf. Now under his watch worst historic fuel price hikes were seen and price of petrol landed to above Rs. 250 right from Rs. 150, in just matter of two to three months.
This brought in another big wave of inflation, investor confidence shaked badly, both foreign and local investors started pulling out, so a rollover effect impacted the currency of Pakistan badly. Soon Pakistan Rupee, which was previously at Rs. 178 against USD on date of PDM take over, now reached 250. Then later it started trading around same price.
There are many other related things, like, to control the downslide of Rupee against dollar and to keep USD inside country, govt also made all kinds of controversial decisions like banning the imports of lots of daily use items, then import of fully built car units etc and even limiting the imports f completely knocked down (CKD) car kits by local manufacturers.
Such measures had little to no effect, in reviving the economy and giving the boost to Pakistan Rupee. In fact in parallel Miftah was not being able to strike a deal with International Monetary Fund (IMF), for continuation of previously halted bailout plan. In desperate attempts to strike a deal, Miftah had taken some decisions like increasing the tariffs of electricity, gas and fuel prices etc, which were not only bad for people but were not liked by party members of PMLN itself. Please remember the press conference of Talal Chaudhry and Abid Sher Ali showing the electricity bills of people. Also the tweet of Maryam Nawaz Sharif, where she mentioned that Nawaz Sharif left a meeting when he didn't agree to a price hike but it to happen anyway.
The Ishaq Dar's arrival and the Dar effect
Now after PMLN realized that the economy is not being controlled well by Miftah and also he is not able control the Rupee devaluation, also he is being able to strike a deal with IMF, PMLN decided to bring back its experienced financial asset by the name of Ishaq Dar.
Ishaq Dar was out of country at that time and was declared absconder by the local courts. The arrangements to bring him back started, he was readied to bring in country, magically courts also started giving time to him and showed leniency. Later the legal hurdles also seem to fade in background. Soon Dar was brought in on special plane of Prime Minister Shehbaz Sharif, when the Shehbaz Sharif was on visit to london.
But before even Ishaq dar landed in Pakistan, soon after the news of him coming back to country as new finance minister, there was lots of optimism in market. So Rupee started getting stronger. Another thing here was, Ishaq Dar was popular for controlling the slide of Rupee and strengthening its value by pouring in the US Dollar in market by taking them out from national reserves. So there was a lot of fear in people that after Ishaq Dar will come, the Rupee will indeed get strong and their hoarded USD or other foreign currency will lose value.
In fears of Dar strengthening the Rupee by all means, people started off loading hoarded USD and other foreign currency to the market. This had snowball effect, the more people dumped Dollars more Rupee got stronger, also soon when Dar was actually in country and was actually the finance minister, his initial decisions and whatever he said about taking steps to make rupee stronger contributed more to Rupee getting stronger. It got strong to the point that at one point USD was being traded at just Rs. 217.
The Current Slide of Pakistani Rupee
But meanwhile, the reserves of country were also being depleted, may be or not may be, due to money being dumped to control USD and recently a news got out that country's USD reserves are much lower again, they stood at just above 8 billion USD. There were also news circulating about Pakistan possible going in default, also contributed to uncertainty. Though Dar cleared later that such news must not worry the people we are not in such a worse position to go default.
But the news is USD and other foreign currencies are again marching up against Pakistani Rupee day by day, as Pakistani rupee continues to lose value once again. It have reached Rs. 231 against USD in open market and Rs. 223 against USD in interbank. Dollar traded on these high prices against rupee today rising from old price of 217 to which it was lowered by Dar effect.
Seems like Dar effect is also fading away, may be after recently government's law making to favor them in NAB and other cases more and putting less attention to the economic and other matters of public interest. There is also indeed the factor of political tensions of current times, including the Khan's demand of early elections and the uncertainties regarding the selection of new Army Chief and the Chief of joint staff. As government is yet to decide on those yet, also it is not clear that how PTI reacts after the decision is made.
But the crux of the matter is, indeed the currency is losing value once again, indeed the economy is downturn, indeed things are no looking good for common man and citizens of Pakistan with ever growing inflation and specially rising energy costs. Also, Indeed Imran Khan is correct in one thing, to stabilize the economy and take the country forward, it is now crucial that early elections are announced, so that a new powerful government with the proper mandate by people of Pakistan, comes in power and makes the decisions of public interest freely. Now even if in current setup, PMLN, which is mostly running the show, wants to make some decision, they will need to convince twelve other parties which are their allies in PDM. This cannot possibly work, for obvious reasons.