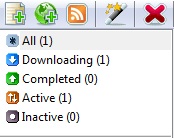 As we are committed to bring info to our readers, here we go, this time we are hitting technology. Simple but great solution if you have something to share with your friends, family, colleagues or over the Internet.
Lets say you was on a trip with your friends on last weekend, you may have a good number of photos and videos form last trip, oh and everyone else is interested in getting them. You can go upload them on some file sharing solutions, oh wait a minute, they may have max file size restrictions or they may also limit download speed for your friends aiming to download your uploaded data.
So, there is a better solution to this, simply create a torrent file of all the media you have and send over to your friends via email. Yes this is how torrents work, no matter you have GBs of data the initial torrent file would be just few KBs and when its mailed over to your friends they open it in their torrent client like "uTorrent" the download for them will be immediately started and they will be downloading directly from your computer.
Before I lead you through the torrent creation process, lets go around the torrent concept once again but this time with more details. First to share via torrent you must have torrent application like the most common utorrent.  You can get it from www.utorrent.com, its little in size and light weight application as well as few steps easy installation. What you will do is specify your media you want to share while creating torrent, specify torrent trackers and create a torrent file, while creating you will also select start seeding option and leave your system on with the torrent application open on seeding mode. Means any one having the torrent file just created by you can directly connect to your torrent app and download the data shared by you.
Magic lies in the public trackers you specified, these are the servers which will be used to connect the people to your torrent app, the ones which you have specified in your torrent file. After torrent file creation when you start seeding your torrent, it connects to the torrent tracker by releasing the torrent's unique key and info to it, when your friends on other side will open the torrent file on their end they will also be connected to same tracker and tracker will connect them to correct seed and download will resume.
What a mess, I gone too much into technical details which may not be easy to digest for a new soul ready to share or download via torrent. Lets kick-start torrent creation process other details will follow.
I am assuming you have already downloaded and installed the most common torrent client called utorrent.
Put all your files you want to share in separate directory or you want to share single file good enough you are ready to go.
uTorrent File>Create new Torrent, a dialog will appear.
Select Source, the first field, add file or add directory option, use the appropriate one to select the content you want to share. You can use the skip files field to specify names of those files in selected directory which you don't want to share. Next in torrent trackers box specify a number of public trackers, may be 3 to 5, you can get list of public trackers by single search on internet, let me specify few here

http://open.tracker.thepiratebay.org/announce
http://www.torrent-downloads.to:2710/announce
http://denis.stalker.h3q.com:6969/announce
udp://denis.stalker.h3q.com:6969/announce
http://www.sumotracker.com/announce

Just copy above URLs and put in torrent tackers box. Just ignore other fields and select start seeding select box. Also don't select private torrent check-box because you are using the public trackers, no problem your data will still be secure and only will be limited to people to whom you will send torrent file.

Next, just click the create and save as button, save your torrent file by any name of your choice, this will not only create torrent file but will also open in your torrent app ready to be downloaded.
Now, just send the torrent file to people with whom you want to share the data, as soon as they open the file in their torrent client your data begins to be transmitted to them. In this case you are the first seed, and people downloading the data are the peers connected to you. You must keep open your torrent app till a first person gets the whole data, or even if you close next time you open download will continue. After another person downloaded full file means there are now two seeds and even if you close or delete the torrent from your app others will be able to download form other seed. But keep it open because more the seeds means more the download speed for new peers downloading.
Also peers downloading data also keep sending available data to each other in order to boost download speed of each other. You can also create good torrents and share data to other users on Internet by uploading your torrent file to a to a good torrent website.
Torrents are great ways to share data but its recommended to use it positively. E.g. you must never use torrents to distribute the copyrighted content.
Go create your first torrent now and have fun.