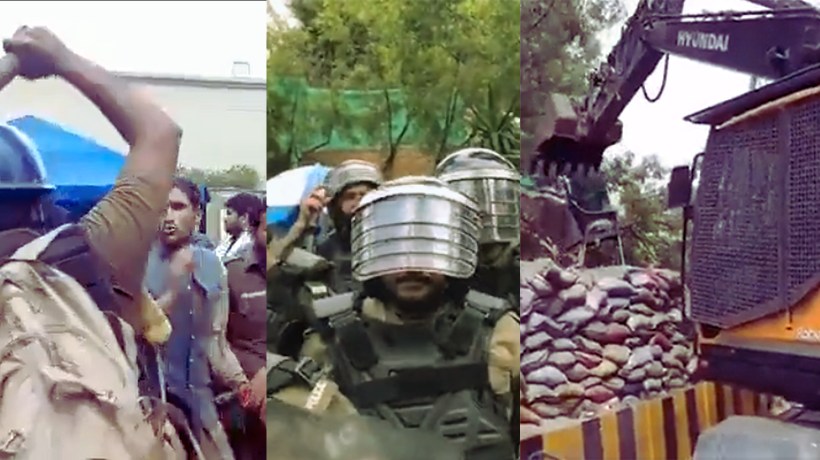 Imran Khan was due in Islamabad for a hearing in an Islamabad court for a hearing. It was the case for which Imran's arrest warrants were previously issued. These warrants were suspended by Islamabad High Court yesterday after the Khan's lawyers assured the court that he will be present for the hearing in the court.
Today early morning Imran Khan left his residence at Lahore, which is called Zaman Park, Lahore police along with anti riot force and elite force officials have reached the Zaman Park. They also brought the equipment like cranes, water canons etc. They started breaking the structures inside and outside zaman park with cranes. Also police was seen beating the few party workers of PTI who were there at zaman park.
Imran Khan also tweeted about the incident. He said Bushra Bibi, his wife, is alone at his Zaman Park residence in Lahore and as he gone out from there, police has attacked his house. The tweet I am talking about, is available below on this page.
Here in following tweeted video, a crane can be seen breaking down a tree and few structures at Zaman Park, also some reports suggests that the gate a wall of residence was also destroyed.
Here in following tweeted video, Punjab police can be seen beating the unarmed people, most probably PTI supporters inside the Imran Khan's Lahore residence. This was seen much more inside and outside the Zaman Park.
Again, in another, following tweeted video, police was seen entering inside the building of Imran Khan's Lahore residence where his wife Bushra Bibi is alone, as per mentioned in Imran Khan's own tweet. Also it can be seen in the video that policemen entering the Imran Khan's residence building via staircase are holding the sticks in their hands.
Also later it was seen that a number of PTI Supporters were in police custody, number of them were injured, were still being beaten by police, even after being in police custody. Blood can be seen on their faces, still police was beating them with sticks and taking them somewhere. All of this can been seen in following tweeted video.
In another tweeted video, it is being explained by Khan's sister, that police entered the residence and when she asked for the search warrant, police didn't show here any warrant but just told that it is somewhere inside. But according to her, police was not bearing any search warrant at that time.
This all and more is taking place at Imran Khan's Zaman Park residence at Lahore, after he had left Lahore today morning for a hearing in Islamabad.