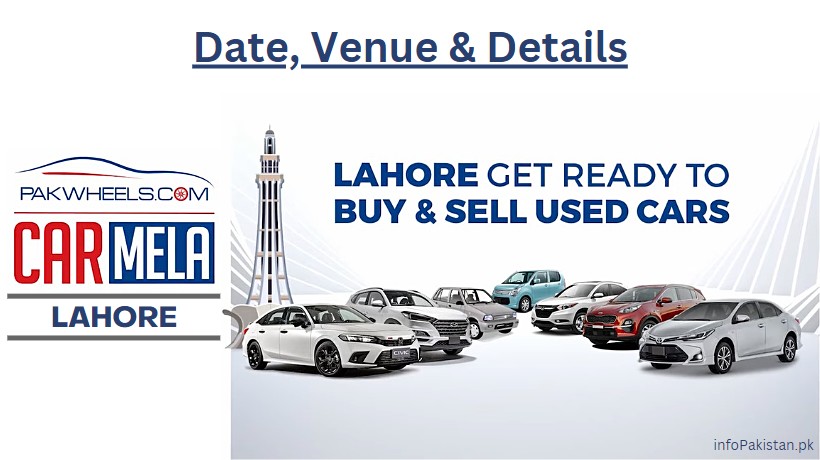 PakWheels have announced a Car Mela event to happen in January 2023. PakWheels Car Mela is also mostly referred as 'PakWheels Used Car Mela'. In the event buyers and sellers meet on a common place set on date set by PakWheels, they buy and sell vehicles which are on display. Also PakWheels' famous services including "PakWheels Car Inspection" can be acquired on the spot by buyers as well as the sellers.
PakWheels Lahore Car Mela for 2023 will be held the on Sunday, January 29, 2023 at Expo Center Parking, Johar Town, Lahore. The timings for the event will be from morning 10:00 am to 05:30 pm in the evening. In order to display your car at car mela, all cars will have to register with PakWheels in advance. Also there is a registration fee which will be charged to confirm a spot the venue.
Pre Booking for Lahore car Mela registration have been started, the fee for registration of cars, Jeeps and SUVs is different for different vehicles based on engine CC. However, engine CC differentiation on the booking fee is only valid for pre-booking period, after which a flat rate, which is higher, will be charged for all vehicles irrespective of engine CC of a vehicle. The pre-booking period will end on Friday, Jan 27, 2023 at 6:00 pm after which the booking will be considered as if its being done on the event day, hence, it will be charged higher.
The pre-booking rate for PakWheels Lahore Car Mela for different vehicle CC and categories is as follows.
Vehicles with up to 1000 cc: Rs. 1500
Vehicles 1001 cc to 2000 cc: Rs. 2000
Vehicles with 2001 cc and above: Rs. 2500
SUVs. Cross Overs, 4x4s, Jeeps and German Cars: Rs. 2500 irrespective of engine cc
Flat rate for all vehicles after end of pre-booking period: Rs. 3000
So if you have a vehicle which are willing to sell, do run and register it before the end of pre-booking period so that you can avail the different discount ranges. For anyone who is seeing this post after that, well price of Rs. 3000 is also totally worth it, as you will have the opportunity to sell your vehicle on the spot to hundreds if not thousands of interested buyers.
For any further details you can call the PakWheels helpline number which is 042 111-943-357. Also PakWheels have set up an online registration form, which you can fill to register your vehicle to put it up on display on the event day. The registration form can be found here.