A Pakistani Taxi driver Asif Hussain Shah who drives his cab mainly in Rawalpindi/Islamabad and is citizen of Rawalpindi is the person who thought out of box and written a book. His book is named 'For Hire', the book is based on his daily experiences while driving his taxi, mostly based on experiences and thoughts he heard from passengers who traveled in his taxi.
Following are few photos of his taxi featuring himself.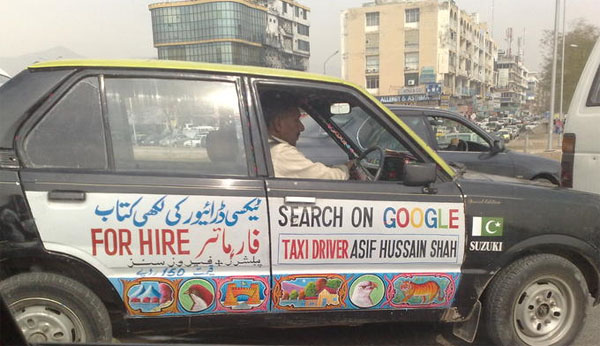 Asif Hussain Shah not only wrote the book, he gone one step further, he used his cab as a moving bill board to advertise his book. He used the space on sides and behind his taxi to attract more buyers of his book and spread the word about himself. The painted ads on his taxi mention his book 'for hire' and they also tell people to search Asif Hussain Shah on Google. Though he himself don't have any official website for himself but relies on what other people post about him on internet.
This tactic of painting ads which ask people to search about him on internet make more and more popular with more and more people taking his taxi's pictures and uploading them on to internet. Same ads given him the media coverage as few TV channels have also covered him.
His idea of online marketing, by an offline ad and no official website to date, worked like charm and now you will find thousands of online posts covering him and his book. Not only this as he travels around more and more people take pictures of his taxi and put them online.
Asif hussain shah wrote his book 'For Hire' not only to have separate source of income but also to preach the good values of Islam, he points out lots of issues in this Pakistani society and how to cope with them. Following is a video captured by a TV Channel which features Asif Hussain Shah and provides his thoughts about the book. The video content consists of both English and Urdu language.
Asif Hussain's book was the first book in Pakistan which is written by a taxi driver in Pakistan or even first in Pakistan by a person who is in a non-intellectual profession to earn his living. He proved this that anyone can write his daily experience and share them in form of a book no matter he/she belongs to which profession.
Asif hussain shah, as shown in above video still have not stopped writing, he continues to drive his taxi and continues to write while dropping the passengers on desired places in Rawalpindi and Islamabad.
If you decide to read Asif Hussain Shah's book 'For Hire', I will recommend that you buy it other than downloading from Internet, so he gets his share which he deserves very much.