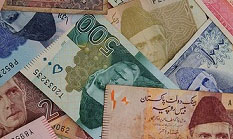 Rupee further depreciated against US dollar and other currencies recently. Against dollar it reached as high as 89 Rupees per dollar. In current financial year which apparently just barely started, rupee have deteriorated 3% as compared to its worth at start of year.
This clearly shows the worsening economy and loss of control of current government on economy of country. In era of Pakistan Peoples Party in government economy and rupee have only seen down fall. As before current government dollar against rupee had just risen 20 Rs per dollar in more than 10 years but since Pakistan Peoples party took charge, die to mismanagement rupee have dramatically lost its worth in just 2.5 years and dollar have risen 29 Rs against the rupee. Dollar have been stable all along on constant worth but it was the rupee which kept losing its worth.
If the basic problem of people like electricity and gas load shedding and few others are coped with, industry will again be able to run and economy may be back to positive track. Apparently yet no solid measures have been taken by current government to resolve the general public's problems like electricity/gas load shedding as well as the health and education.
Deteriorating rupee comes with other problems, fuel prices go high as its imported and ultimately it results in increase in inflation rate. Its time to take solid measures to put the country's economy back on track.
Follow us on Facebook and twitter as well as subscribe to our daily email update, all from options on right side of this page.