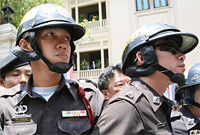 Just wondering how easy it is to play with the lives of other people in this country. Unilever Pakistan was recording a reality TV show for promotion of their product "Clear Shampoo" few days ago in Thailand. Contestants were given the task of swimming, during that Saad Khan who was 32 years old drowned and called for help. The other contestant and the rescue staff tried to help him but he drowned in unclear water to depth that despite six minutes of search he was not found and died in the incident.
The question is when Unilever was organizing this reality show why did they neglected the need for properly trained rescue staff and proper rescue equipment. When you are taking people to places and conditions where there is ultimate life risk, the properly trained rescue staff and equipment is must.
Additionally no TV channel or newspaper given this thing a good coverage, but I just saw dawn website showing this news on side of their main page. Means these news channels as well which are in race to be the best and better than the other ones still care more for money. I mean how can they risk losing the big part of their revenue which they are earning by running the commercials of Unilever by running a news which goes against Unilever.
Thailand police is now investigating the matter to find out that whether it was an accident or done by negligence.