As 4000 US troops and 650 afghan troops have been moved across the Pak-Afghan border yesterday, so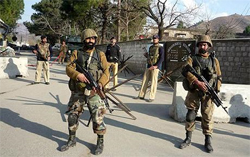 chances are that militants will be pushed towards Pakistan, all across the border.  So Pakistan Army have increased the number of troops across the afghan border to cope with any of militants which will try to move from Afghanistan in to Pakistan in search of safe heavens.
Pakistan shares 1600 miles of border with Afghanistan, so its extremely difficult to fully safeguard that border area, but increasing the number of troops will definitely help improving the security at the border. Also Pakistan army need to employee some technology to watch the borders.