Lashkar which was formed of local people continued to help Pakistan security forces in different areas of Swat and Dir. Lashkar consisted about 1200 individuals when it was formed.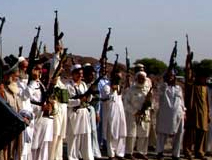 In some more joint operations in Swat and Dir areas these local people and Pakistan security forces have been able to kill 23 more militants which were hiding in the areas and were involved in different terrorist acts.
Lashker also conducted house to house search and recovered arms including pistols, riffles. They also recovered an illegal FM radio station in their house to house search.