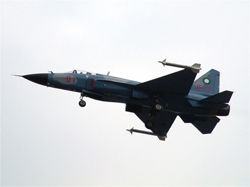 JF-17 thunder was previously designed, first produced by Pakistan in collaboration with china. Pakistani and Chinese engineers together worked to achieve this latest design of JF-17 thunder. Previously china had already started the production of this Air Craft.
Now in Kamra Pakistan Air Force have started assembling the first Paksitan built JF-17 thunder fighter air craft. Chief of Air staff, Air Chief Marshal Rao Qamar Suleman inaugurated the construction ceremony at Kamra. Top officials from China as well as Pakistan have attended this ceremony.
This is the great success specially for Pakistan. Previously Pakistan was not able to design or built any fighter crafts locally. Also they had to purchase all the fighter crafts. Now this production will help Pakistan in increasing the air defense power. Also they will not have to pay other countries for fighter crafts and then wait for years for the delivery like the previous Pak – US F-16 deal.