The official website of Allied Bank Limited is hacked by hackers who are called themselves Xploiter and Dr. Freak. They have defaced the website and added their own page with a warning, screenshot is as follows.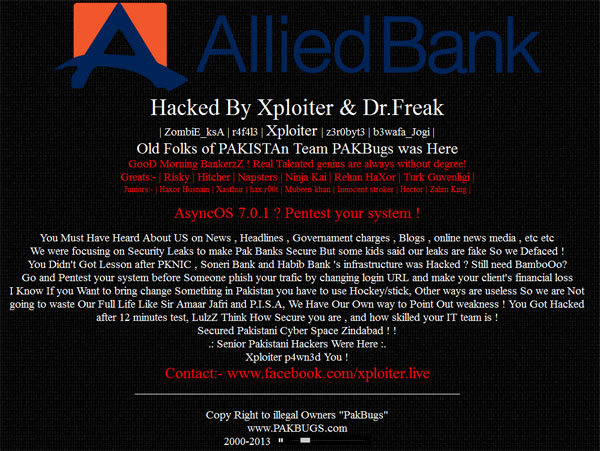 Hackers have left their not about the site, which concludes to Allied Bank Limited should have learned from the hacking events of Habib Bank Limited, Sonari bank and PKNIC (Pakistani Domain name system). Please note that these were hacked in recent past and hacker rightly said that Allied Bank and other banks of Pakistan should have been more careful with their website security.
Hackers claim to be friends of Pakistan rather than foo, as they claim that they want that banks and other agencies of Pakistan make their online systems more secure, according to them if system is hacked by wrong people, they can collect the customer login details and can do funds transfer transactions, costing the customers money. Full note by hackers was following,
You Must Have Heard About US on News , Headlines , Governament charges , Blogs , online news media , etc etc We were focusing on Security Leaks to make Pak Banks Secure But some kids said our leaks are fake So we Defaced ! You Didn't Got Lesson after PKNIC , Soneri Bank and Habib Bank 's infrastructure was Hacked ? Still need BamboOo?
Go and Pentest your system before Someone phish your trafic by changing login URL and make your client's financial loss I Know If you Want to bring change Something in Pakistan you have to use Hockey/stick, Other ways are useless So we are Not going to waste Our Full Life Like Sir Amaar Jafri and P.I.S.A, We Have Our Own way to Point Out weakness ! You Got Hacked after 12 minutes test, LulzZ Think How Secure you are , and how skilled your IT team is !
Secured Pakistani Cyber Space Zindabad ! !
.: Senior Pakistani Hackers Were Here :.
Xploiter p4wn3d You !
So hacker here is claiming that hacking this site was just work of 12 minutes, text above also suggests that they had somehow warned the IT guys but they being children with no knowledge – according to text by hackers – does not responded well and the kept calling warnings as fake
Banks and other online systems owners of Pakistan will now have to think about securing their systems well or like a Allied bank they also may be hacked. Allied Bank must consider it a big set back for them, as they would lose lots of customer trust due to this defacement.
The Allied Bank site we are talking about is "abl.com". Hope they will learn from their mistakes and other banks will learn in advance, so no customers of these banks lose any money.
Do share your thoughts and opinions below via comments. Do join us on twitter and Facebook using the options on right side of this page. We will keep you updated on the issue.
UPDATE – 17/07/2013 3:45am: Seems like the developers at Allied Bank Limited just woke up. After being defaced for hours, developers had replaced the hacked page with a plain white page temporarily now finally the Allied Bank Website is back up. See the following screen of normal working website as per now.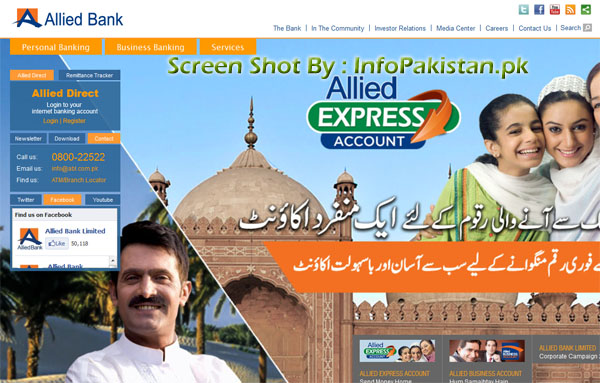 Hope they can secure their website enough, so no hackers can get in again, also website must be more secure to protect customer funds and personal information. We will update you about any further information about this hack, check back soon.