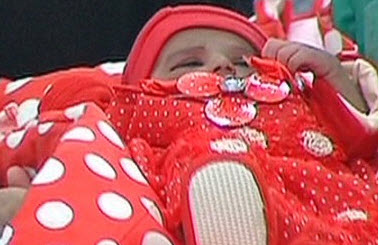 I was really shocked after hearing that to just get the ratings hike for his show Amaan Ramzan the controversial Aamir Liaqat is giving babies to so called un-expecting couples in his show. One such thing happened when Aamir Liaqat just handed over a baby to a couple, they even didn't knew that its going to happen. Liaqat claims that its for good reason, it is to give the abandoned baby a good family.
Is he serious, I and many others believe its just publicity and show rating stunt, previously he was giving away, bikes, cares and many other gifts like home appliances, suddenly this baby give away thing shocked people. One such family already received a baby and one more baby is in pipeline to be given away.
The baby supplier is an NGO working as Chippa welfare organization. Their opinion is that this will give a good family to baby. How could they just hand over baby, what if the family is not in state of mind of receiving a baby right now, does they have ran some background checks on couple to whom they are offering baby, absolutely no. What if couple goes to have their own baby, what would be status of this given away baby. What would be checks and balance on the couple to whom he just given away baby, well absolutely no. Even if receiving couple in future misuse/abuse baby or sell for some minor price no one would know.
I am angry rather furious about this issue, already in Pakistani hospitals the issue of infants' theft is on peak and if few other channels start this non-sense, people may be selling them babies, falsely claiming that the baby is taken from a road or bin on roadside.
The channel on which this program was aired is Geo TV, they would have shown some responsibility, well they didn't, they must be held responsible and should be dealt with according to law. The PML-N lead government should take the notice of the issue and also chief justice should also take notice. If this is allowed, it would be disaster everywhere. Pakistan yet not have any adoption law, this must be address before things get worse.
Recently this issue also caught attention of International media and story was picked up by CNN as well.
Do give your opinions about the issue via comments below, do follow us on Facebook and Twitter to indulge with other Pakistanis.