Pak Suzuki have finally announced the launch date of third generation Suzuki Swift in Pakistan. Just recent Pak Suzuki have stopped the generation of second generation Swift. Also recently they have rolled out first Pakistan built model of third generation Suzuki Swift.
So, new third generation Suzuki Swift is being launched in Pakistan on Thursday, 24th Feb, 2022 via a Lahore based launch event. Soon after the launch, in fact from very next day the bookings are expected to be opened as per our research.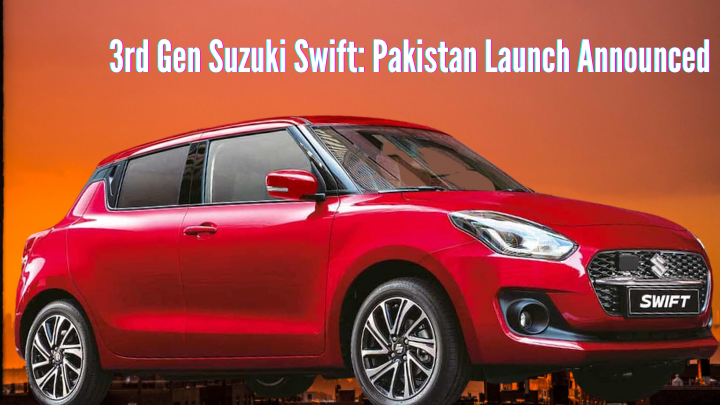 New Suzuki Swift comes in 1000cc turbo and 1250cc conventional engine worldwide but it is expected that Pak Suzuki will resort to 1250cc engine keeping in view the different local variables which does not favor the turbo, local fuel quality being on of the major ones.
New Suzuki Swift is expected to come in Manaul and CVT automatic variants, though Suzuki do launch several cars with AGS transmission, which mimic the automatic transmission but is actually just an actuator on top of manual transmission to automatically shift gears. Suzuki claims that this mechanism is much more efficient in fuel saving but still not liked by many as gear shifts are not that smooth. So hope Pak Suzuki do go for true automatic CVT transmission for this car.
Pricing will also be a hard one for Suzuki, it is at the time only hatch back in Pakistan in 1300cc category and already people can buy proton saga just above 21 hundred thousand which is a sedan, also Changan Alsvin can be bought at ex factory price of just above 24 hundred thousand. Honda city prices start just above 27 hundred thousand at the time of writing of this article.
Despite all above still based on information available at the time, Suzuki is expected to launch its 1250cc Hatchback the new Suzuki Swift at 27 hundred thousand and above. In such a case we can only wish them luck to sell enough number of pieces.
Update: As the vehicle is already launched, so the official price, variants, specs and booking information is also now available which you can read about here.