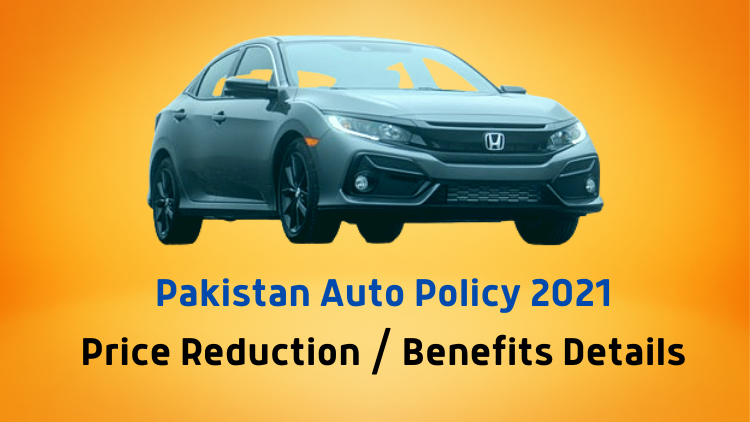 Government of Pakistan have the announced the new auto and export policy 2021. There are few main purposes of this auto policy which include, brining the ever rising car prices down for end consumer, encouraging the auto makers to produce new cars in Pakistan instead of importing and selling from the abroad and finally, encouraging the auto manufacturers to not only meet the demand of local auto market but also encourage them to make extra vehicles and export them.
The new Pakistani auto policy of 2021 is appropriately named the "Pakistan Auto Development and Export Policy 2021", it is overall 2nd auto policy of the country. First one was introduced in 2016 by PML-N led government and that too had very positive impact on local auto market and resulted in lots of new auto makers entering or reentering in Pakistani auto market. These include but are not limited to KIA, Hyundai, Chandan, Proton and many more.
Price Reductions
But coming back to Pakistan's auto policy 2021, following are the benefits which were given in the auto policy.
660 to 850 CC: For vehicles with engines from 660 to 850 CC, the Sales Tax reduced from 17% to 12.5% , additionally the FED (Federal Excise Duty) which was 2.5% is not 0%, its just removed fully. Additional Custom Duty (ACD) which was 7% is not applied to this category anymore and is now 0%
851 to 1000 CC: For new category of vehicles with engine capacity up to 1000CC, the sales tax is similarly reduced from 17% to 12.5%, new FED is again 0% for this category as well. ACD, which was being charged 7% is now fully waived off to 0%.
Above 1001 CC: For this category no tax reduction given in sales tax. The FED is decreased by 2.5% and ACD is reduced to 2% from the older 7% which was being charged from customers.
Import duty reduced from 25% to just 10% on electric vehicles for Completely Built Units (CBU). Same is true for the hybrid vehicles which reduce the fuel consumption at least 30%. This Import duty is now 0% for CKD (Complete Knocked Off) Electric Vehicle Kits an which are later assembled inside the country.
Discouraging OON / Premium on top of Price
The auto policy also puts some good attention to the problem of premium earning on the vehicles which is result of supply demand gap. This is called "oon" in local language. So what investors do is, they register vehicles in advance and once they receive it, as no other option to buy car instantly is available due to supply/demand gap, they sell it instantly by charging a premium amount on car price. Some auto manufacturers and specially the show room owners also adopt and promote this practice. To discourage this all following initiatives are taken by government in this regard,
Car/Vehicle must only be registered in the name of person, who registered it in the first place. Otherwise, if the registrant is different he will have to pay additional fine of Rs. 50,000 to 200,000
Auto Manufacturers will deliver vehicles within 60 days of vehicles registration, otherwise, they will pay KIBOR + 3% interest rate on registration amount to registrant in case of delay. However, most likely this applies only in case when the vehicle was registered with full upfront payment to manufacturer.
Registrant will be able to see where in manufacturing stage their car is currently, via an online system to be introduced by each manufacturer.
If these steps still don't work, additional steps will be taken and fine will be increased to stop the malpractice of charging premium for instant availability of vehicle.
Ensuring Car Quality and Safety Features
Auto policy also focuses on car quality and the safety features provided. For that auto manufacturers will have to at least meet the WP-29 world standard to provide enough safety features and a meet a minimum quality threshold.
Benefits for First Time Car Buyers
For people who are purchasing their first car, a car leasing scheme will also be introduced. This will have lower first payment and lower than current rates of interest. So that the people who are using the motor bikes can more easily switch to a car.
More to Come
According to Khusro Bakhtayar's press conference on same topic, he mentioned that auto policy have much more benefits and sections which are subject to cabinet approval and will be announced in next month, which is first week of August 2021. Everything which is mentioned above is final and approved, these will details affective immediately infect right from 1st July, 2021. More expected benefits include the reduction of Customs / Import duty of JDM (Japanese Domestic Model) Cars. But import benefits will be given to the level so they do not jeopardize or affect the sales of local industry. Also, benefits to be announced include proper announcement of low interest car leasing schemes for people buying their first car and much more to be expected.
Conclusion
Finally, this auto policy is a very good step in right direction, this will boost Pakistan Auto market and will benefit the end consumers a ton. This single step addresses many concerns of Pakistan Automotive consumers which include car pricing, extra taxes, vehicle quality and malpractice of "oon" or premium charging on already hiked prices of Cars. It is also good that Pakistan Government is now determined to keep checks on auto manufacturers so that they keep the quality of vehicles up to the par and provide at least basic safety features.