Yes, you read it right, FAW motor company offers one van, one car and one mini truck to its Pakistani customers. This one is from China and recently its passenger vehicle called V2 have been appealing to the masses, as it spacious car on a very competitive price as compared to other operators in Pakistan. FAW Motor company is officially known as Al-Haj FAW motors company in Pakistan and is part of Al-Haj Group, which was found by late Haji Sakhi Gul Afridi.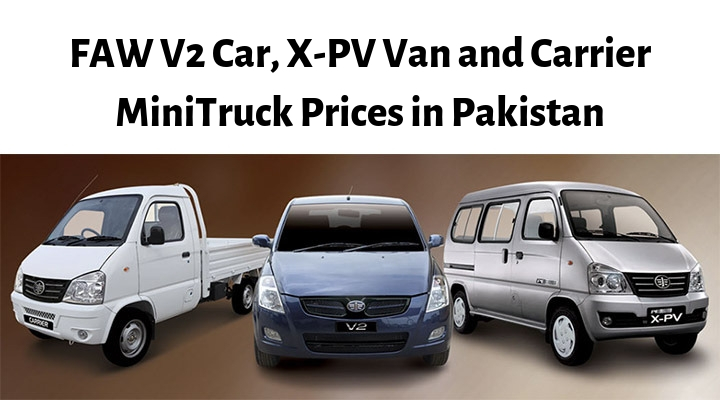 FAW V2 Price in Pakistan
FAW V2 comes in Pakistan in a single Trim. It is recently being more and more popular with people and quite a few are seen on roads, every time you get out to a highway or a city road. Though its a Chinese company, people have started having some confidence in their products, the price of trim/variant offered to Pakistanis is as follows,
| Make/Model/Trim | Ex-Factory Price |
| --- | --- |
| FAW V2 VCT-i | 1,609,0000 |
FAW X-PV Van Prices in Pakistan
FAW X-PV is a 5 door mini van with quite a few very good options. It houses eight people in total, there are multiple variants available to Pakistani customers of FAW. Their trims and prices are as follows,
| Make/Model/Trim | Ex-Factory Price |
| --- | --- |
| FAW X-PV PE AC | 1,344,000 |
| FAW X-PV Standard | 1,304,000 |
| FAW X-PV Power Edition | 1,119,000 |
FAW Carrier Prices in Pakistan
This is a 1000 cc carrier offered by FAW motors Pakistan. Officially, it is build to carry weight of one ton. There is one trim of tis vehicle available in Pakistan right now and its price is as follows.
| Make/Model/Trim | Ex-Factory Price |
| --- | --- |
| FAW Carrier Standard | 1.139,000 |
FAW also sells some heavy vehicles, for which they have no listed prices but their nationwide dealerships can be contacted in this regard.
Do follow us on twitter and Like our Page on Facebook, from options available on right side of this page, to stay updated with latest information from and about Pakistan.