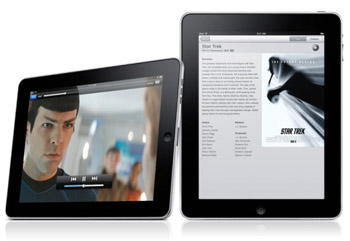 Apple have recently introduced their new portable computer, which is called IPad. It is a touch screen computer with no physical keyboard or any kind of controls, relies only and only on its touch screen for all controls. Apple IPad is far more powerful than any previous tablet PCs, its light weight and have size equal to normal size text pad. Browsing web is much easier than any other portable device, also it features the on screen keyboard exactly equal to the size of laptop's keyboard, so makes the documents creation and web browsing very much easy.
When talk of photos, videos and games, it deals with these all very well, photo viewing and video viewing with this little gadget is a unique experience. The real deal is that its portable and still have three times bigger screen than any other portable device. To be exact it features 9.7 inches display screen.
Another good thing is multi-touch feature which lets the user touch the screen at more than one place on screen and based on that it increases the user control. e.g. this feature is very good and be used for zooming in into the photos. Also along with this product ipad's own SDK is launched, means a specific development environment for applications developer to develop applications only and only for this device. This will sure bring in some brilliant new applications for this device from all over the world.
Current price for IPad touch starts from USD $499 which is very much fair for new device which just dropped into the market.
Following is going to be a video which tells very much about the Apple IPad touch, don't miss it to see how powerful this new gadget is.
Subscribe to our email updates as well as Facebook & Twitter pages from right side of this page, rest assured, we will keep you updated with latest, interesting and useful information.