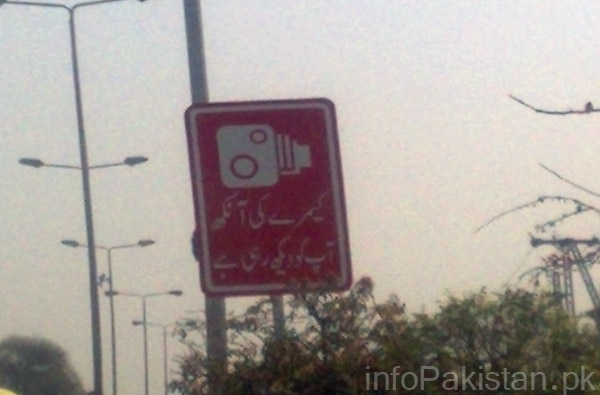 There are not many public places in Pakistan where the security cameras are installed by the government however the private organizations, banks, institutions and markets install the cameras. Recently some government security checkpoints have claimed to be using the security cams at their places, as you see in the image, this picture was taken on a highway inside Rawalpindi which is under both Military police from Pakistan Army and Punjab police. Specifically this one is in Cantt area.
A little cabin have also been seen on the same check-post which seems to be the control or monitoring room for these cameras. It is encouraging the now security checkpoints in Pakistan have also started making use of technology, the security cameras in this case. In case of any violations even if the criminals get away, the guys at the check-posts will at least have some video footage featuring the faces of criminals.
This reminds me of an incident when a robber in Pakistan entered into a bank's ATM cabin, killed the person when he resisted and got away with the money. But later when the footage from the CCTV camera inside the ATM cabin was released to media and telecasted on some private TV channels in Pakistan, the criminal was spotted by a TV viewer and caught when that viewer called in to report the location of that person.
So if in case these cameras are installed effectively to cover the whole area of checkpoint and closely monitor the vehicles passing through, it will be great help in catching the criminals who got away without being caught.
One more thing which could have been done was not to let the people know by the boards that cameras are watching you because these boards can result in the criminals covering their faces or being little careful while passing the checkpost. Another important thing is either they maintain the recorded footage of last few days or not, they must have idealy have the videos of all passed times or atleast of last few days in other case. These can be used to track a vehicle which may have been entered via that checkpost in case the tracking is required.
Anyways this is good that now the technology is being used for security purposes but this was just the beginning, if really things have to be achieved the concerned department will have to bring in much more gadgets along with the real people who know how to operate them. This will help in having the fool proof security.