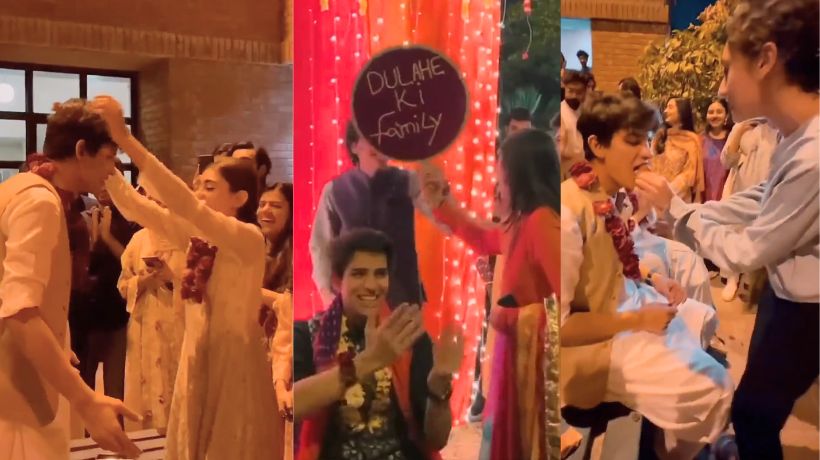 In your student life, at your school, collage and university, you would have celebrated many kinds of days but the students of Lahore University of Management Sciences (LUMS) celebrated something, which never happened in a university in the history. They came up with an idea of holding a fake wedding at LUMS. Also they decided to do it properly with all things which take place in the normal wedding.
According to a LUMS student, it was decided that a fake wedding will be held at LUMS. For this on the facebook page of LUMS few names of were nominated, after some election process, two names were chosen for the wedding.
The students who were chosen for the LUMS fake wedding are Mahnoor and the Taimoor. This was not just small one day event, the event gone on for three days, like a real marriage in south asia, specially in subcontinent. The events included 'baat paki' (setting up relationship by family) to mehndi event and the other functions of local weddings, like baraat and more.
A student of LUMS, Muhammad Saim Rehman, summed it all up in his tweeted video very well. You watch the video in the discussed video embedded below.
Another famous tweet by Muhammad Hazran, which includes a detailed video about the LUMS fake wedding, asks the question if the parents of the students which are involved in the wedding are OK with their students taking part in such fake shaadi. The discussed tweet is as follows.
In another tweet, by twitter account named Nishat, mentioned following few words on the wedding.
I gotta hand it to LUMS for inclusion. It's the middle of the night but there's women dancing their heart out. No university could ever. This one time I went in the boys attan session at QAU and men started claiming that I should be grateful that pashtuns gave me that freedom

Tweeted TExt by Nishat, Original tweet embedded below
The above mentioned tweet also includes a video, so here it is for you.
Some more viral videos of the LUMS fake wedding are as follows.
Not only this, the LUMS is trending on twitter on number seven, due to this same fake wedding. Some cheap or rather free publicity for LUMS. However, to be clear, the students had organized the event of wedding not the LUMS management.
I have also checked LUMS official twitter and facebook accounts for any official statement about the LUMS wedding which is going viral, all over the social media. However, I have not found anything on both of these accounts, they have neither endorsed nor rejected the wedding. Means, they are probably fine with it.
However, this must be decided that what is ok for our students to celebrate at an educational institutes and what is not. Someone will need to draw those lines. To the extent students gone to celebrate and dance on this fake wedding is nothing ordinary. Specially, when the wedding spanned full three days and included all the event of real wedding.
For past few months Pakistani Educational institutions student gone viral but nothing of which was due to the academic reasons. The last time bunch of students were gone viral, were for beating and bullying other students in a Lahore's private school.