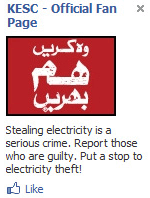 Karachi electricity supply company which is responsible for providing the electricity to Karachi have finally decided to deal with the electricity theft in the city. As part of this campaign they have made use online medium along with the use of conventional media like TV and newspaper ads.
Most recently they have been seen making use of a social network called Facebook using their proper advertisement feature. They have maintained a Facebook as well to connect with people effectively. Also they are maintaining a YouTube channel as well.
It is actually a positive step that along with normal online advertisements now Pakistani Organizations are now using the social networks to promote themselves and to connect with people. They way they will be better able to get the consumer feedback directly and will be better able to know what the consumers think about them.
The current campaign being promoted using all kind of media including online mediums is called "They Steal, We Pay" or "Wo Karein, Hum Bharain" in Urdu. This is against those culprits who steal the electricity and consequently other consumers end up paying for them to fulfill the electricity costs. This campaign from this Electric Supply Company shows that they are finally now up to deal the issues in order to improve their distribution network.
The current campaign is not only limited to the promotion, in fact they are tracking out the individuals who are committing this crime, registering the FIRs against them and also publishing their names as well as addresses in newspapers in their ads.
People across the country who committing the crime of electricity theft crime must stop from today, any of such campaign can deal with you bitterly and can make you exposed in front souls huge in number.
KESC Facebook Page: http://www.facebook.com/pages/KESC-Official/171879877110
KESC YouTube Channel: www.youtube.com/kescofficial
Finally more and more organizations must follow the way KESC using Social media in order to connect with people and getting the valuable feedback.
Keep yourself updated by subscribing to our Email, Facebook page, Twitter page from the sidebar on right of this page.