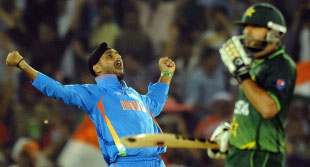 More than India bowling it was more of  a Pakistani batting collapse which ended our team off into the failure. In bowling side there were few catch drops, specially the four catches if sachin, who was able to make 85 runs. Overall India had given Pakistan the target of 261 to team Pakistan which was very much gettable.
While batting, the start was pretty convincing but then after mid of innings somewhere inning collapsed and on correct time the runs were not taken ending us up in losing the game by making just over 230 with loss of all wickets in 49.5 overs.
India makes it to the finals where they are to meet Sri Lanka. Hope that would be a good match for both the teams. This is for sure that world cup is this time coming to Asia.