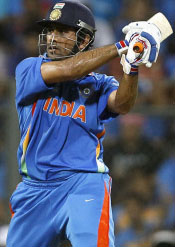 The sports news of year or even beyond is that India have done it once again. They already had one world cup trophy with them which they won in 1983. Now again after 28 years India not only made it to the finals but also won the ICC world cup finals. They were one of three hosts of this world cup and won the final match against Sri Lanka on their home ground in city of Mumbai. Also with this India became the first nation which was the host of a world cup tournament and in same tournament it won the World Cup.
One Day International (ODI) World Cup is the biggest battle or tournament of em all in cricket and played after every 4 years. World Cup Cricket 2011 was to be held in Pakistan but due to some local security situation in Pakistan the three nations including Sri Lanka, Bangladesh and India hosted the tournament. India qualified to the World Cup final match after winning the semi-final from Pakistan in mohali, it was also a good battle and finally India was able to pull it off and made it into the finals.
Now again coming back to the final between Sri Lanka and India, it was again a very good battle but finally things gone in favor of Indians making them the two times worlds champs when it comes to the cricket.
While batting first Sri Lanka put good 274 runs on the scoreboard. The M Jayawardene (103) and K Sangakkara (48) were the best scorers from Sri Lankan side. Indian also done a good job in containing the Sri Lankans to the achievable 274 score.
While chasing the target of 275 it was good show with the bat as well from Indian. Gautam Gambhir (97) and MS Dhoni (91) were the best scorers from the Indian side. India was able to achieve the target in just 48.2 runs with the average to 5.73 runs per over.