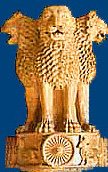 According to Indians world must put pressure on Pakistan so that it cleans up all militants on its soil and contribute to the peace in world. Here thing to think is why such statements keep coming from India when they are not able the clean up all the threats from there soil. They must remember that last month Israel and Australia had advised its citizens to not to travel to India, Why? because of bad security situation and a possible terrorist attack.
Instead of taking care of threats to their soil many comments from their country keep coming about putting the pressure on Pakistan. Latest in this regard are comments from the Indian Foreign Secretary Nirupama Rao, she said world must put effective pressure on Pakistan so that it implements its commitment to deal with terrorists on its territory.
Also added "Pakistan had much gains over afghan issue in last 8 years and they will be compromised if Pakistan will not be pressurized to act against these militants".
My question to these Indians is what do you think what Pakistan Army is doing in trouble areas, they have spent already huge money to wipe out these militants, and we are not doing this for any other country but its very much necessary for sovereignty of our nation.
India which always have been against Pakistan how could they think in favor, its just another tactic to divert world community's attention from issues at their soil. They must better take care of their own stuff and we are capable to deal with every threat and issue on our soil.