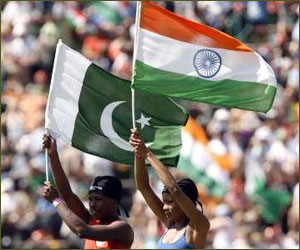 India Pakistan cricket match is the one which is always waited by people of both countries. Its thought as something more than a game. Considering the hostile relationship there have been between India and Pakistan, considering all those wars in past and stuff, this match is always considered a thing of national pride.
Game is after all a game, and must not be considered anything more than that  but still some people don't think that way. Anyways, India Pakistan matches are always exciting, many people from both countries were hoping that at some point in ICC Cricket World Cup 2011 both the teams will meat each other.
A series of events including "Pakistan beating Australia in their last match of World Cup first round" and "India beating Australia in Quarter final" made it possible that Pakistan and India will now meat in semi-finals. This will ensure that one team from sub-continent is in the final and being a Pakistani I will obviously hope for my country to pull it off and go forward to finals.
India Pakistan matches are exciting, not only for people of these two countries but also followed by cricket enthusiasts world over. As both of teams give their best to stay at top of each other in turn providing a good cricket match.
This time stakes are even higher, winning team will not only have the happiness of getting on top of traditional rival but will also have the opportunity to go over and win the world cup tournament are at least playing into the finals. I would say for both these teams, it is a final match match before the actual final match, so this way winning team will have pleasure of competing in two final matches.
Hope green shirts do well and brings the world cup trophies back home. To conclude who ever wins, it will be a good competition, then game is after all just a game, so just have fun when you watch/follow this great upcoming game.