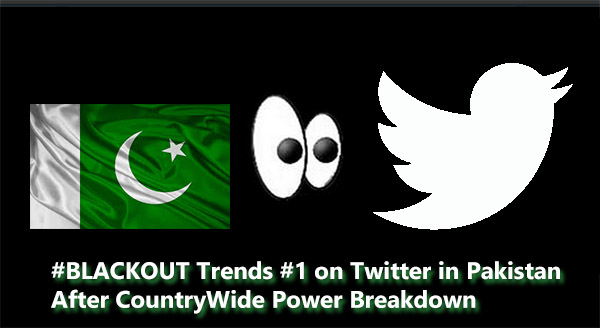 Currently the power in out in whole Pakistan from hours after the multiple power stations of country tripped. Due to furnace oil shortage, the power stations were making the way less electricity, which overloaded the system and now the whole Pakistan is facing blackout.
As soon as the country gone into blackout, the people gone furious and everyone is expressing their views about the failure of current government on twitter and other social media forums online. Same is reason that the hashtag Blackout (#blackout) is trending number one on twitter right now in Pakistan. Thousands of tweets coming every few minutes. If same pace is kept up, it is not far that we will see the blackout hashtag trending worldwide.
Trending number one in Whole Pakistan means that its currently being used most as compared to other hashtags. The most number of times in Pakistan. Citizens are expressing their views about our politician and their failure, here are few tweets we came across.
Failed Politicians send Pakistan into the 'Dark Ages'. #blackout

— MuhammadAnjumKiani (@AnjumKiani) January 24, 2015
Another citizen reports about the unavailability of cable tv transmission due to power outage as follows
tv cable gone . survivor of the fittest #blackout

— Sohail khan (@SohailKhan1989) January 24, 2015
Another citizen who seems fed up with these issues created by our political leadership
جا بجلی کے بریک ڈؤن پر آنسو بہا کے سو جا #blackout

— Sadat Younis (@sadat_younis) January 24, 2015
Here is another citizen unhappy with current government
#PMLN Govt set the new records of incompetency by deprived the people from Oil, Gas & now power #blackout. #KyaYehTumharaRoshanPakistanHai

— Nisar Mehdi (@nisarmehdi) January 24, 2015
Another citizen making fun of lame excuses given by current PMLN (Pakistan Muslim League – Nawaz) led government.
Media is responsible for this #blackout. Sincerely, the PML-N.

— Ali Salman Alvi (@alisalmanalvi) January 24, 2015
Do share your opinions in comments section below. Do follow us on twitter and Like on Facebook for latest info from Pakistan.