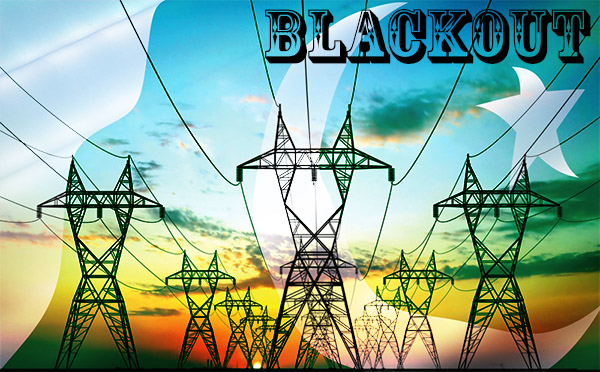 Earlier today on Sunday, 25th Jan, 2015 after 12 am, whole country is now in total darkness after the major power plants trip. The water and power ministry is blaming the high load as cause of trip but it does not add up. In winter how much the load may by, which can cause countrywide trip. Tarbela, Mangla, Gudu and more power plants are affected.
Including Islamabad, whole country is in darkness as we speak. The Water and power ministry told that restoration of power will be started after 5am in the morning. I am sure it would be for just some areas, and it is 2:30 am in the morning.
According to a dawn news article Pakistan's power production was 6700MW lower than demand due to acute furnace oil shortage. So this is now confirm that this breakdown is again failure of current government and connects to that same oil shortage which was caused as results of different government departments not paying PSO their debts.
Pakistan was today producing only 7000MW of power which is much lesser than our demand in winter which is near 9000 to 14000 MW. However, Pakistan has power generation capacity of over 20,000 MW, which have never been utilized fully due to mismanagement and corruption of political governments.
There are many cover stories coming forward now from government. Firstly, ministry told that this happened due to extra load and now Abid Sher Ali is mentioning a transmission line was blasted by terrorists.
This clearly happened due to non availability of Furnace Oil. International orders were not placed by PSO as result of nonpayment from Power companies and other government departments. This situation was likely and it was being told that this could very well happen in next few days.
The leading party PML-N (Pakistan Muslim League – Nawaz) had claimed that they could take country much further, as they have experienced team. Here we are, facing the load shedding more than ever. Fuel shortage was worse for last few days.
The very thing the had to fix as first priority, the load shedding, they have made it worse as far now. Never in recent history Pakistan has produced the electricity as low as 7000 MW in a day. It happened today and here we are, whole country in darkness for long hours.
Share your opinions about today's long load shedding in comments section below. Also like us on Facebook and follow on twitter from options on right side of this page, all to stay updated with the latest.