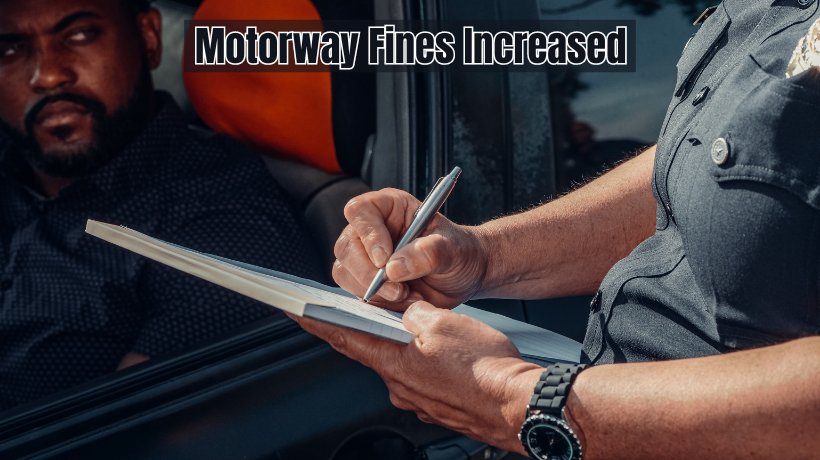 A significant increase in the fines on Pakistani motorways have been announced. The new fines will be applicable from 1st of October 2023. Usually the traffic violation fines in Pakistan are very low in amount as compared to other countries. Sometimes amounts are so low that people do not care about them. The higher fines will mean that people will be more careful and will tend to follow the laws more often.
In my personal opinion, instead of increasing the toll tax, motorway police should try to increase their revenue by increasing these fines. So I personally think this increase in fines on motorways, is good, as existing fine amount are too low in case of many violations. Details of this increase in traffic police fines in Pakistani Rupees are as follows.
Violation
Old Fine
New Fine
Increase
Over Speeding
750
2500
1750
Wrong Overtaking
300
1500
1200
Broken or
Non Functional Headlights
500
5000
4500
Careless Driving
300
1500
1200
Driving Without License
750
1500
750
Fancy Number Plates
1000
2000
1000
HID Headlights
1000
2000
1000
Vehicle without Registration
500
2000
1500
Old and New Motorway Traffic Violation fine amounts in Pakistani Rupees
As you can see, some new fine amounts are ten times higher than old amount. This increase was very much necessary, as now people will think well before breaking the law. A while ago the toll taxes of Islamabad Lahore motorway were also increased.
In these testing times of Pakistan's economy, seems like authorities are try to increase their revenue by any means. First the toll tax for M2 Motorway was increased and now these traffic violation fine amounts were increased. I personally do not endorse the toll tax increase, however the fines increase was actually a good thing in my opinion.
Regarding the toll taxes, if we like it or not, the authorities have to cover their costs. So it may also have been absolutely required to cover the operating and maintenance costs of motorways and related infrastructure.
Room for improvement in facilities on Motorways
Not very frequently but many times I travel on motorways privately in my vehicle. I have seen a number of shortcomings which the authorities should put their attention to, some of these are as follows.
No Lights on Motorways
The motorways does not have any lights on major portion. On some places I have seen poles installed but either there are no lights or they are not in running condition. So without the light poles and lights, traveling on the motorway on night time is not exactly a good experience. Installing lights will have many benefits including decreasing the chances of traffic accidents as well as decreasing the probability of crime. Also traveling on a properly lit road at night is always a good experience.
Service Areas can be Increased/Improved
By traveling on M1 and M2 I know that on motorways there are few good service areas. And for long stretches of road sometime either service areas do on exist or if there are small areas with few shops. More service areas should be added as well as the existing service areas should be improved.
Also the restaurants and shops on the service areas charge very high for the food items, snacks and drinks. As they know that the people do not have option to get off of the motorway and buy from outside. So there should be checks the prices and even on the quality of food on motorway service areas.
Restrooms could be better
Well I am talking about the toilets here. Other than very few specific service areas, other do not have proper usable washrooms. Some even have the toilets in the containers, which are smelly and not usable at all. As these facilities are very much necessary, so they should be improved.
Scammers should be tackled with
For long time I have been hearing about the tyre scams on motorways from family, friends and people online. Every now and then, someone falls victim to tyre scammers. In many cases I have heard about is that when people go to a tyre shop on motorway for just a normal air topup, often times the people operating the tyre shops cut their tyres with sharp objects. Now the vehicle owners are left with only option to buy an old tyre from same shop on very high price.
These scams have been happening for a long time and I am not sure if some action was taken against such scammers or not. My suggestion would be to open govt operated tyre shops on service areas which things are properly monitored and made sure that people are not ripped off.
Other needed facilities
I have listed few shortcomings of Pakistani motorways which could be dealt with. However, there would be many other things which need improvement. Other frequent travelers can point those things out. So if you have notice any such thing on any motorway of Pakistan which need improvement, do share with us via section below.
There is good about Pakistani Motorways
Since we have listed lots of shortcomings of Pakistani motorways above, it is very much necessary to appreciate the good things. As we all know, the Pakistani Motorways decrease the travel time required significantly as compared to alternate roads which go through the cities. As motorways completely avoid any city traffic, the travel is very smooth and fast on motorways.
Also road quality is so reliable that you do not have to worry about any broken patches and you do not have to slow down. Another good thing is the Pakistani Motorways network is ever increasing in size, as more and more motorways are being build and being added to whole big plan.