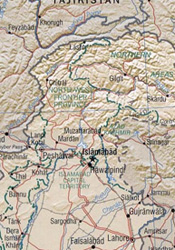 Rawalpindi, Islamabad and other cities have observed an earthquake few minutes ago. We will be coming with the more information soon about the affected areas soon. On rector scale it was minimum 6.2 and latest info tells that it was observed all over the country.
Update: According to the initial information from the Pakistan Meteorological Department the earthquake was 6.7 at rector scale.
Update: The epicenter of the earth quake was 196 Killo-meters deep in the area of Hindu Kush mountain range. No property damage was reported occurring due to this earth quake.