The former interior minister of Pakistan Muslim League-N reacted on Shahbaz Sharif's statement in which he called Ch Nisar childish. Ch Nisar said, "PML-N president did not understand the difference between childish behavior and serious actions".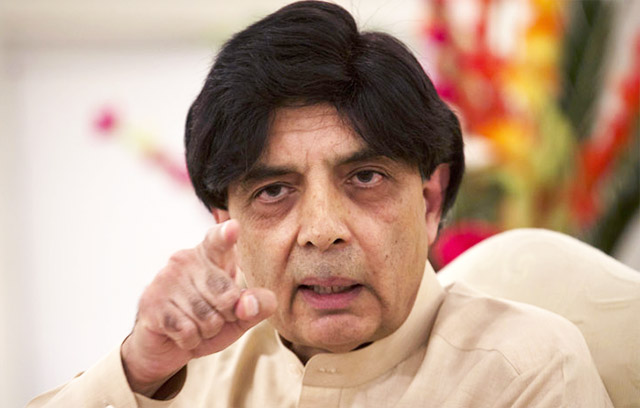 Ch Nisar is having few differences and issues with PML-N and it seems that Shahbaz Sharif is also dealing with the same issues. At the District Headquarter Hospital inauguration ceremony in Rajanpur Shahbaz Sharif talked to media and commented about Ch Nisar, "There is something childish about him [Nisar]; you have to deal with him like a child."
While remembering the old days Shahbaz Sharif said, "I am talking about 1988. He [Nisar] used to constantly complain about me to Mian sahib [Nawaz Sharif]." In Shahbaz Sharif's point of view, Ch Nisar was the good friend of Nawaz Sharif and was my opponent and continuously complaint about me to him and in the result, he scolded him. The president of Pakistan Muslim League-N Mian Shahbaz Sharif seems unhappy with ex-interior minister Ch Nisar, which makes him recalling the old incidents and calling him childish.
In the response statement, Ch Nisar said, "Childish behavior is the attitude that the PML-N party leaders have adopted and it's Shahbaz Sharif's non-seriousness that he is doing nothing as the party president to address these issues."
While on the old issue of Ch Nisar and Mian Nawaz Sharif friendship, which Shahbaz Sharif has described, Ch Nisar said that he should not discuss 30 years old matters and should focus on the current issues his party is facing.
However, according to Shahbaz Sharif that Ch Nisar is angry with PML-N party and having some issues which are accepted to be solved soon otherwise he has to consider some other political party in future.
Let's see what will be the future of PML-N and what will be the decision of Ch Nisar that which party he is going to opt in future.
This article was written by staff member: Sehrish Ilyas.