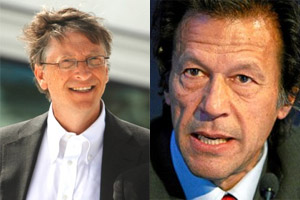 The owner of Microsoft (the developers of windows and services like Bing Search Engine / hotmail) Bill gates today contacted Imran Khan, the chairman of Pakistan Tehreek-e-Insaf (PTI), and offered his assistance for eradicating the Polio from the Khyber-Pakhtunkhwa province of Pakistan. Let me remind you, Pakistan tehreek-e-Insaf won elections from Khyber-Pakhtunkhwa recently with most seats in the province. Also emerged as third biggest party on national scale according to seats won, right from no existence at all in last parliament. Also according to highest polled votes to any party in Pakistan elections 2013 PTI was second biggest party. This increase in confidence People of Pakistan in Imran Khan was result of charity work Imran Khan had been doing from more than a decade in form of world class cancer Hospital in Pakistan. Also Imran Khan have been a cricketer, captain of Pakistan cricket team and had won cricket world cup for Pakistan in 1992. Politically its been 17 years after he found his party but his career recently took off recently when people lost confidence in political leaders who looted the country and not resolved real problems of Pakistani people.
Cutting right to the chase, seems like world community also have good confidence in Imran Khan, its also now obvious after the contact from Bill Gates, the world's richest man and a computer genius with out class product of windows computer operating system.
Finally I here by leave a ray of hope for people of Pakistan, you keep electing the right, educated people in elections and things will change. Just throw away in case some one makes promises in campaign for five years and then finally don't fulfill them after they are elected.
I see the Change coming, It must not be about which leader is leading us, it must be about who is working for us, and he/she must be elected. And just few day of a person in Power tell the whole story, you don't need to wait for years. May Allah bless Pakistan.
Share your opinions via comments below, do follow us on Facebook and twitter for updates and useful info.