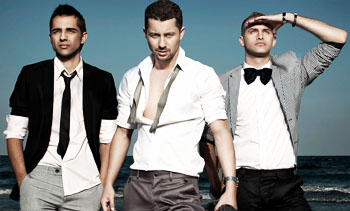 Akcent had concert scheduled for 20th Feb 2012 in Islamabad but now latest and authentic news is that its officially canceled. For people who don't know, Akcent is a Romanian music band which are also singing the English songs from after 2006. Recently they have been doing some real good English albums which got popular all over the world. They have been to Pakistan and done their concerts in Karachi and Lahore.
They were for the first time going to do a concert in Islamabad on the 20th of Feb but that is officially canceled. They told they were not resposable for this cancelation. They said and i quote
we are sad to announce that the concert from Islamabad is official cancel and not reschedule. We are not responsable for not comming on 20 January or not reschendule it.
They also showed interest to do a concert in Islamabad in future by saying
We, are very sad for what happend and hope in future we will be able to come in Islamabad for the first time and have a great concert with you!
People of Rawalpindi/Islamabad will also be looking forward to the Akcent's first concert in Islamabad in future. Akcent do have recent concert coming up in Lahore on 26th of February, 2012.
To keep yourself updated on stuff going on in Pakistan, subscribe to us via email, follow on twitter as well as Facebook all from the options on right side of this page.