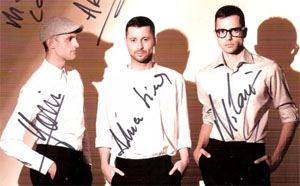 Akcent have their concert coming up in Lahore Pakistan which is scheduled for 26th of February 2012. They have recently dropped their Islamabad Pakistan concert which was scheduled for 20th of Feb 2012. Islamabad concert was canceled due to some administrative issues but the Lahore concert is still on and Akcent will still perform in Lahore, Pakistan on 26th February, 2012 in Lahore.
Akcent on their blog site have mentioned about the Lahore concert as follows
Dear friends,

The 26th February is the new date for LAHORE concert. Looking forward to see you all there and have a great show together !

Akcent
Akcent previously was scheduled to visit Pakistan in January but due to some administrative reasons they had to postpone their visit so they have given this new date of 26th Feb, 2012. They will possibly soon release the information about how and where to get the concert tickets/passes. We will try to keep you updated on that.
To keep yourself updated, follow us on Facebook and twitter, also subscribe to us via email, all from options on right side of this page.