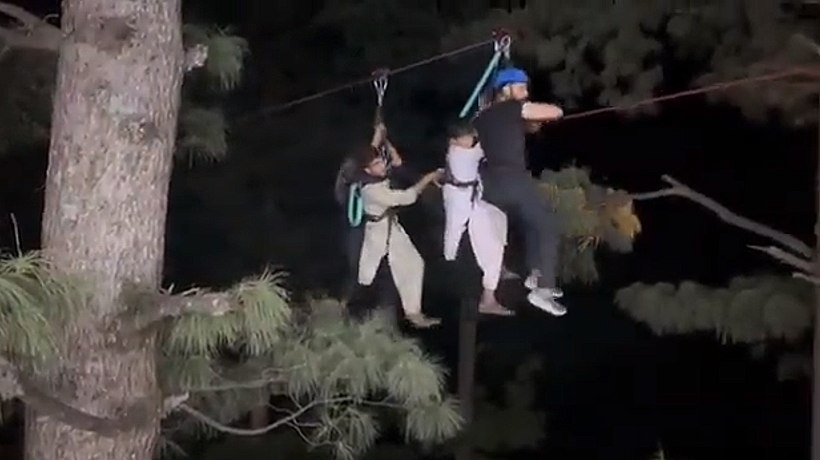 A cable car incident have took place in Battagram in Khyber-Pakhtunkhwa early morning, when two cables of a cable car were snapped. Cable cars in the area are used to for transportation. So, the school going children were using this cable car to reach their school, as per their routine. So after two cables snapped in the early morning on August 22, 2023, total eight people were stuck in cable car, thousands of meters high from ground, between mountains, on top of the valleys.
Until noon no one had been rescued. However, lateron army aviation took charge, in first few tries, they were not able to stabilize and hover their helicopters near the suspended cable car due to low air pressure in the area. However, later on near the sunset time, Pakistan Army aviation was able to rescue two children. And the operation to rescue the remaining via helicopters was called off due to different challenges, the major challenges being low pressure atmosphere and darkness.
However, rescue efforts via other means from ground continued. SSG commandos of Pakistan Army remained involved in this rescue effort. So all 8 passengers, mostly children have been rescued rescued. Rescue 1122 staff was also there at the place of incident, however, due to immense height, there was not much have could have done alone.
In a post on social media platform X, the interim prime minister, Anwar Ul Haq Kakar told that he have asked National Disaster Management Authority (NDMA), Provincial Disaster Management Authority (PDMA) of KPK and district authorities to ensure the safe rescue of all 8 people stuck in the cable car. The exact text of the post on social media platform X (formerly twitter) can be seen below.
In a post later on, prime minister told that he is relieved, as all the children have be rescued. He also thanked army, all the rescue departments and locals who took part in the rescue operation. You can see that yourself in the post below.
By the way, whole nation was following the rescue efforts being made at Battagram and many were hoping for safe return of all children and other people stuck up there in the cable car. Before sunset army aviation was actively participating in the rescue efforts and they have rescued two children. However, after sunset, that operation was called off and Army's SSG commandos, locals and other national/provincial rescue and disaster management departments took part in the rescue efforts. As a result all 8 passengers have been rescued successfully. According to different sources, locals also have major contribution in the rescue efforts.