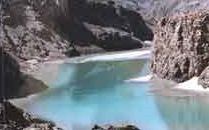 Recently Bhasha dam was approved by Executive Committee of the National Economic Council (Ecnec), this dam is going to cost 894.25 billion rupees. Not only this, along with this project about two dozen other infrastructure and social sector schemes were approved. All of them collectively will cost about Rs. 977 billion. Foreign aid factor will about 312.94 billion rupees.
Bhasha dam will take about 10 years to complete and will serve the nation with 4500 MW of additional electricity.  First time after development it can be initially used about 30 years without any major maintenance. The committee termed it as a lifeline project for Pakistan. Also was termed as the biggest project of Pakistan history by the committee.
The dam will be about 272 meter high, will have the capacity of about 6.4 million accer feet of water. As a first step National Highway Authority will be given the tasks to widen the roads leading to that area to make the delivery of building equipment and material easy. As this dam will be fully made of concrete so will need to have lots of high tech and heavy building material at the location. It is indeed a upcoming mega structure from Pakistan.