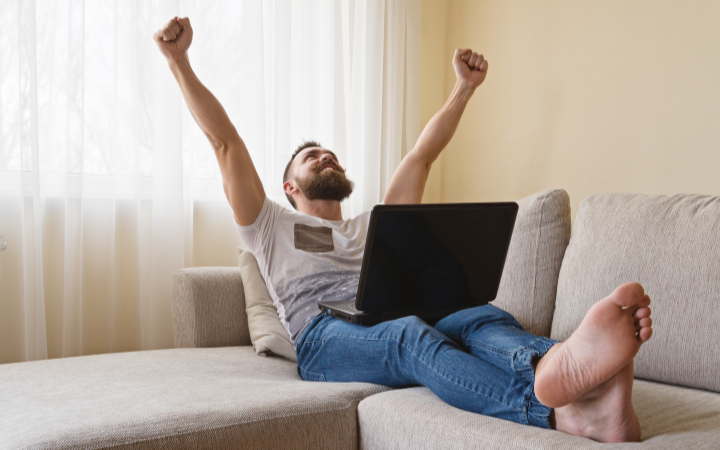 With everything going global and with internet bring the revolution in communications, more and more people are attracted towards the idea of working from home. It was slowly getting popular earlier but now with the global pandemic making the headline news in nearly every country in the world, it is need of the hour to practice the social distancing. The businesses which were IT and communications related, they have already made the transitions and people are now mostly working for same companies but from their homes or residences.
However, lots of people were negatively hit by circumstances and are not able to work from home due to nature of their work. So here we have brought many things which you can do full time or just as side gig and start working from home. Also these are the things which can be done from Pakistan and money can be received back legally in a Pakistani bank account.
1. Start Freelancing
This is the number one and huge way to earn money online. It also depends on your skills and what you can do best. In really early days the online freelancing was just for programmers or IT Professionals but now things have changed. People for many professions are able to deliver their work online for money. If you are programmer of any kind, you can make lots of bucks by freelancing but their other skills you can learn start selling online. These skills include Content Writing, Copywriting, Graphic design, Arts, Crafts, Search Engine Optimization (SEO), Online Marketing, Social Media Marketing, Translating text, video editing, recording voiceover, designing book titles, designing video thumbnails and much more.
If you think you have any of these above skills or some other similar skill, than what are you waiting for, you must hurry up and go to one of online freelancing websites, make a profiles and start selling your services. There are many freelancing websites where you can sell your services. some of these are as follows.
Fiverr.com – Along with IT services you can sell lots of services here, you must go and check to have an idea so that you can offer similar services there.

UpWork.com – This is request based website, clients request what they need and in which technologies, the workers or companies with workers having skills those technologies provide their bids. Than the client chooses the appropriate Individual or Company based on their bid price, skills and portfolio comprised of previously completed work.

Guru.com – A Request based website very similar to Up Work explained above

Freelancer.com – A Request based website like Guru and Up Work

PeoplePerHour.com – People per hour is also a website which follows the model of Fiverr but with some differences. Here also people list their their services and clients contact them to get things done. You can find out more by visiting them.

Above is list of few very popular freelancing websites, you can find even more freelancing websites with a quick and simple google search.
2. Start Selling Stuff Online
There are many ways to start selling online some of them are as follows.
Social Media – There are tons of options available in this. You may have existing big social media accounts or you can start from scratch. All you need is a Facebook Page, a Youtube Channel, an Instagram account or an account on any other social media like twitter or more.
Even if you do not have any following, do not worry, each platform gives its own type of ads or promotion methods to increase your followings. Or you can post your product and can directly promote it with ad and get people to buy it. Than when you get an order, you can contact them for verification etc and use Cash on delivery or any other method you have available for payment.

Third Party Sites (Daraz, Amazon, PakWheels & More) – There are many websites which let you sell your stuff via their website for a commission, you just need to register with them, create a seller account and start selling. For each sale they will charge you a minor fee. This includes local players like Daraz.com, PakWheels.com and more as well as international ones. According to my info for now only Amazon.com allows such transactions from Pakistan, if there are more and you know about them, do share in comments.

Own Website – Again there are many options available here, depends upon your skill level and resources available to you. If you have some skills or some programmers & designers available to you or if you can spend some money on this, you can have your own website built and list products there directly.

If you do not have those skills or resources, do not worry there are options like Shopify.com as well as WIX.com, which give you tools to build your own online store with just matter of clicks. It will even have your own domain name, than after you choose and set basic theme and design etc, you will be able to put in your products, their details and images etc. Than shipping methods etc, including Cash On delivery. All orders will come to your dashboard, you can than process them from there.
3. Start a Youtube channel
If you have grip on some subject, start making videos on it. You can also start documenting your life or specially if you are outgoer type, you can start making videos about people, places or your adventures. Make a youtube channel and start uploading there. You do not even need any extra advertisement etc, just focus on making good content. First target must be to upload 50 to 100 videos before even hoping to make money. This will enable you reach the youtube minimum threshold of 1000 subscribers and 4000 watch hours.
Biggest mistake people do here is, they look for shortcuts and worst of them is to looking for buying the Subscribers and Watch hours to get monetized. Even if you successfully able to monetize via one of these shortcuts, it will not be helpful in long run and also you will lose the money you paid to complete this shortcut way. The reason is if your subscribers are not interested in what you posted video, youtube do not show your video to other people. And obviously if you have bought subscribers, they will definately be added via some dummy content or they will simply be fake subscriptions. They will never engage with your content or atleast will not comment or like. For all your future videos this will send signal to youtube that your content is gone so bad, that even your subscribers are not watching it. So your video will not get listed on any prominent place to get views, even will not be shown anywhere near top in searches.
So on sustainable way to make it big on youtube is to make good content, make it regularly, make your own content. Handwork and consistency here is must, stay miles away from any kind shortcuts and mark my words, you will be successful on youtube in long run for sure.
4. Start an Online Personal Blog / Website
If you have some technical skills or have interest in tech space, you can build your own website. Or least a blog. Even setting up wordpress blog is much easier and very less tech skills are needed but off course someone who is new to computers and internet will have some difficulty in that too.
Anyways, you must choose some topic or skill that you are good with and than start writing or start making content about it to post that on your website or blog. Once you have enough content (30 to 60 posts), then you can than apply for some ads company like google adsense etc. They will just give you some code that you will add easily to your website or blog. Than you will start making money with all your past and future content. More the views, more ads shown to people and more money.
5. Start Online Social Media Marketing Business
There are two ways to do this, either you own your own social media pages or accounts, grow them bigger via constant posting or with some help with platforms own promotion services. Than when your pages are big enough you will start getting sponsorship requests with money.
Other way is to learn skills on posting and optimizing ads for better results on one or more of Facebook, Instagram, twitter or any other social media. Than you can provide services to businesses to help with their social media campaigns to derive more sales of their product or services with least money spent. This service can be sold via freelancing sites listed above in method # 1 or you can also directly content businesses or individuals posting ads on social media that you can optimize their ads to derive better results but you will charge some money for that.
However, first step here for you will be to learn these marketing skills, you can do it via online tutorials available on youtube as well as on other websites which provide free and paid courses. Sites like Udemy.com as well as skillshare.com and more.
This is a service which is in more demand than you can imagine, with more and more people trying take their businesses online or starting online business, they do need smart marketing to keep good profit margins and to keep their business running. I am sure there will be individuals like youtubers and more, who will be interested in such services.
6. Start Designing and Selling T-Shirts Online
There are websites which let you design the T-Shirts, mugs, bags, phone covers and much more. And then they take care of all the logistics including printing, order taking and shipping etc and send you your margins. Good thing is while you are designing or uploading your design, they give you details of their cost and you choose your margin yourself. This gives you ability to control the final price to be competitive or else you can also charge higher if you think your design is good.
Another good thing here is, you do not even have to be a graphic designer to start, your design can just be some text, a catchy phrase in some good font which is saved as image. They have even tools on website to make or save such texts. Or you can utilize photoshop or some online design website to make these images and upload.
One of such website to make and sell T-Shirts and much more stuff is TeeSpring.com , You just need to make an account with them and you can start making / uploading your designs and start making money. Good thing is you can do this if you are living in Pakistan, as they support Pakistan officially.
TeeSpring is just one example but most popular, I am sure you can find much more options like that with a simple google search.
Final Thoughts
With above online earning methods, I have just scratched the surface of online earning possibilities which are available for Pakistanis and around the world. There are lots more possibilities and those times are not far away when major things where online presence is not necessary will be done online. So if you do not have a physical day job or looking to start something, do try your faith online, try to learn some skill or polish skills with resources like youtube and more available online and they apply them to get online work.