US Drone Firing two missiles on a compound and on a vehicle, have killed six people in North Waziristan Agency. Drone strike came on a time when Pakistan Army is fighting militants in same area. However, the residents are not all militants but also the locals/innocent civilians reside there. How a drone from height of thousands of feet above ground can grantee that rocket fired will not harm anyone innocent. Pakistan army with their Operation Zarb-e-Azb is doing good in area and with ground forces they are carefully working to clear the area of terrorists. However, a drone attack at that point in time is pointless.
Pakistani Foreign office have already condemned the drone attack in a statement and deemed it violation of our airspace and sovereignty. While Pakistani ground forces are there in the area, United States must quit playing the big brother and should let Pakistanis take care of their own problems.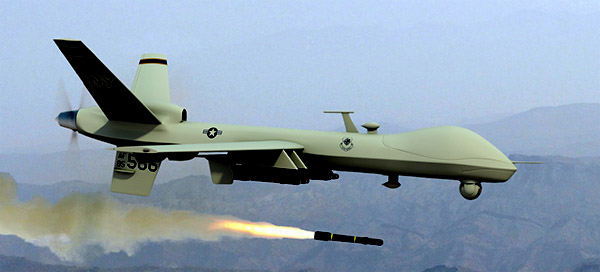 Militants are sure big problem of our country but on same time its true that our government and army is doing much to take care of this problem. Specially the most recent on going Operation Zerb-e-Azb have achieved much and eradicated several dozens of terror minded people. United States sure do not have any right to violate air space of a sovereign country and take matters in their own hands.
Pakistani government should also reply more aggressively on diplomatic forums and just one statement for foreign office is not going to do it. They need make it clear to United States that the it no more need to play Big Brother and must mind its own business and let us face and solve our problems.
Main problem with these drone attacks is according to reports of several International surveys they do more harm to innocent civilians, women and children than the militants. Are hence very much counter productive in a million ways.
Do share your opinions in comments section below. Do LIKE us on Facebook and follow on twitter to stay updated with the latest and useful information.