Being a pizza lover and being a resident of Rawalpindi/Islamabad, I have visited too many pizza outlets over several years. Tried out many brands and finally confined myself to very few best ones. Lets start with a countdown.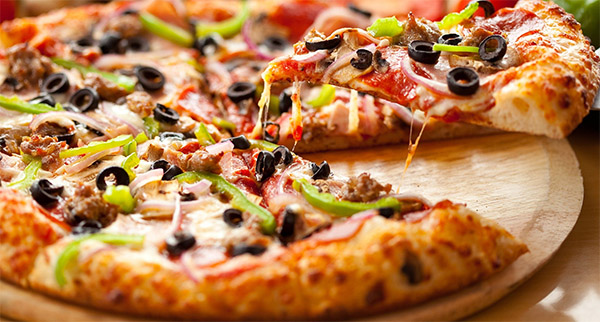 5. Pizza Hut
I have been to Pizza Hut F10 and F7 (Super Market) Islamabad, honestly I am not a bit fan of Pizza Hut but still its better than most bottom line local brands. According to experience of few friends, Pizza Hut of other cities like Lahore etc is much better than any Pizza Hut Outlet in Rawalpindi or Islamabad.
Still if you want to visit Pizza Hut in twin cities, than the recommendation is order any chicken pizza and you will be very much fine.
4. Fresco Sweets
This one I have found much better. The best experience was with the Fresco Sweets Outlet in Blue Area Islamabad and after that first good experience I visited that place over and over again many times and they never disappointed me. However, I had also visited their Saddar Rawalpindi outlet, the pizza was again fine but it was rich on salt which ruined the taste. So as per Fresco Sweets is concerned, their Blue Area outlet worked for me very well in terms of Pizza.
In Saddar Rawalpindi they have out door sitting place to enjoy stuff with mostly self service But in Islamabad they have much better managed basement sitting place with proper staff taking your orders and delivering the eatables.
3. Bread'n'Butter Rawalpindi
Bread 'n' Butter Bakers is situated in Saddar Rawalpindi on back side of Standard Chartered bank which is on Haider Road near computer market of Saddar. They offer many top of line bakery items and their pizzas also rock. They are much better than most with couple of exceptions coming up in the countdown. They have their own unique taste but again the rule is to order chicken/BarBQ pizzas. Top of the line are Chicken Grilled, BarBQ, Chicken Smoked and Chicken Fajita.
Bread'n'Butter Pizza is worth eating and any one with slight love of pizza must try their pizzas. They are mostly thick, full of chicken and great cheese. Loved it if you ask me. 🙂
2. Tehzeeb Bakers
Again one of best of best pizzas of Twin Cities. Best thing about them is their taste is uniform across multiple outlets in twin cities. Either its Tehzeeb Bakers Saddar Rawalpindi, or its F11 or Blue area Islamabad, their Pizzas have same taste and freshness. I have got their pizzas from all these outlets lots of time and they never disappointed me. Again I prefer chicken flavors and always go for them, so can grantee less about others.
1. Pappasallis
No other Pizza in Rawalpindi or Islamabad matches the Quality and Taste of Pappasallis. Their Pizzas always cost about about 30% to 40% more than other best pizzas in twin cities but at the same time they are worth the price. Again best thing is you also have option to dine in if you don't wanna take away. The outlets I know are in Jinnah Park Rawalpindi and F7 Markaz, the Jinnah Super Market of Islamabad. I have been to Jinnah Park outlet just once but mostly prefer the other one in F7 Markaz. They have full two floors of sitting place in their which also include smoking and non smoking area.
If you dine in, they lime drink is worth trying, its very best with their pizza and I Just love it. And if you take away, they mostly offer some additional value on each pizza, e.g. Russian Salad on Medium size pizza or similarly Small and Medium pizzas on Large and Extra Large Pizzas. However these offers not always there and they keep changing.
So if you have been to Rawalpindi/Islamabad and tried pizza and have not been to Pappasallis then No, you just have missed best pizza of twin cities.
Finally, this top five list is based on my personal experiences, please share your experiences too with us and tell which pizza outlets or brands you loved the most, no matter where you are.
Do share your opinions in comments below, do LIKE us on Facebook and Follow on twitter from the options on right side of this page to stay updated with latest and useful information from Pakistan.