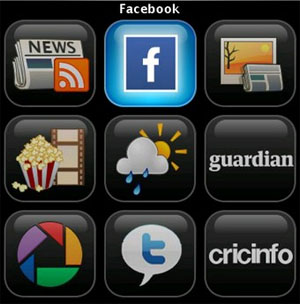 If you have tried, using the internet via mobile is nothing less than a misery. While going through the Nokia's OVI store I came across this application called Snaptu. It not only changes the way we use internet but adds a whole new experience, after installing this on my Series 60 phone unlike past I was loving mobile internet experience.
For Facebook and Twitter you have to provide the Username and Password once along with ticking the remember option and you done. Now you will get one click access to the sites, also even its sports or news of your interest, event local weather for casts of up to a week you will get all of this on single click. The software uses different applications to show different kind of information, each application appears as an icon. Each Icon leads to desired information in mostly one or two clicks.
Unlimited number of new apps and links can be added and the ones you don't like can be removed. With vertical scrolling it will never restrict you to any number of allowed applications. I recommend to try this software, it must work well with any Symbian or Series 60 phones. You can get it through your phone itself via Nokia OVI store or Nokia apps for your phone or use snaptu.com to grab this amazing application.
Subscribe to our Facebook, Twitter and Email updates from right side of this page and continue to be amazed.