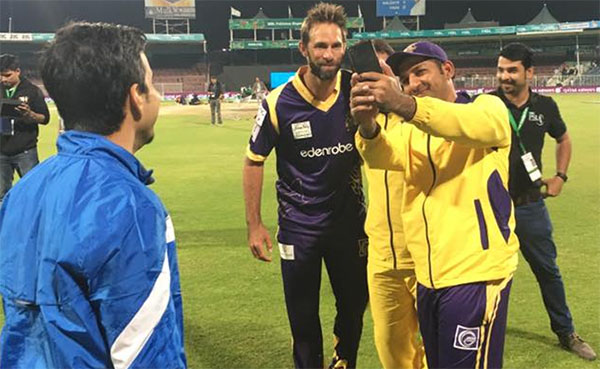 In another PSL (Pakistan Super League) low scoring game Quetta Gladitors send back all 10 players of Islamabad back to the pavilion in just 19.1 overs, at a point when they had scored 117 runs only. By achieving the target in just 16.1 overs the Islamabad United added another victory to their unending list of victories in this first season of Pakistan Super League.
From Islamabad United batting side the best score was 40 which was scored by Shane Watson on just 28 balls with the help of 3 sixes and 3 fours. Other than him no one reached the figure of 20 and everyone was back to pavilion at at point.
Quetta Gladiators bowlers did very good job. Grant Elliot took three wickets in 4 overs by giving just 25 runs. Zulafqar Babar and Aizaz Cheema took two wickets each. Anwar Ali, Muhammad Nawaz and Muhammad Nabi took one wicket each. So there was no bowler on the Quetta Gladiators side today, who did not took a wicket. If was show of pure collective effort.
While chasing the target Sarfaraz Ahmed did best 51 runs on 39 balls with the help of six boundaries. Ahmed Shehzad supported him with 41 runs on 31 balls with the help of five FOURS and just on SIX. Muhammad Nawaz was 21 NOT OUT on 14 balls with Sarfaraz Still on the crease when the Quetta Gladiators won the match for good.
Andre Russel was only bowler from Islamabad United who took the wickets. He took three wickets in just three overs that he bowled. Also he given only 18 runs in those three overs, while the pitch was totally favoring the batsmen. Nothing more to say about the Islamabad United's bowling performance, as they were not at able to contain the opposition.
Overall, today Islamabad United's shaky performance was no match for the solid authoritative show from the Quetta Gladiators. So the Gladiators took the rightfully deserved victory.