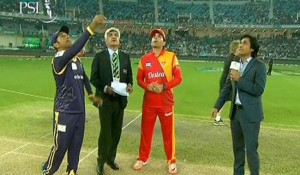 Today Pakistan Super League (PSL) have officially started. It was the first match played between Quetta Gladiators against the team of capital city of Pakistan, team named Islamabad United. Its the first season of PSL and right from the start fruits of have country's own league have started to emerge in shape of new talent.
One emerging talent unleashed was Nawaz of Quetta Gladiators, who did well in both bowling and batting departments. He bowled FOUR overs for Quetta Gladiators and took 4 wickets by giving just 13 runs, which are very good bowling stats for Twenty20 format. In batting department Nawaz helped Luke Wright putting a big total on the score board while chasing the target of 129, which was set by Islamabad United.
For doing well in both Batting and Bowling, Nawaz was named the "Man of the Match" for opening match of PSL season 2016. Another notable performance is 86 runs scored by Luke Wright on just 53 balls while chasing the target. Luke did those 86 with the help of 11 FOURS and 4 SIXES.
If we talk of Islamabad United, Misbah-Ul-Haq did 41 on 28 balls and AD Russel 35 on 20 while remaining NOT OUT at end of Innings. From Islamabad United side Imran Khalid took 2 wickets while just giving 20 runs in 4 overs.
Overall, it was good start of the league's first season. And it became evident from just first game that PSL will surely help emerging talent, will bring talented players forward and will give them opportunities to further groom their talent while playing which their seniors and other senior foreigner players.