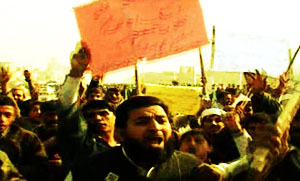 Today in Pakistan the transporters were mostly on strike against the recent Rs. 13 per KG increase in CNG price. As well as the CNG filling stations observed the strike all over country. People who in the morning came out of their homes to go to offices, after not finding any public transport ended up gathering in form of protests. They blocked roads and registered their protests against recent CNG price increase by government.
In capital Islamabad and its twin city Rawalpindi alone on many many places people registered the protests, the traffic of twin cities was total mess and more than 60% of even those people who own private conveyance were not able to reach work. Availability of fuel was also the issue as from Thursday to Friday in this region the gas (CNG) filling stations normally stay closed and this time these price hikes this time made things worse as people stood against it.
Many believe that corruption of parties in power is increasing the problems of people on epic proportions. Fuel prices are already touching skies and are unaffordable for many already. Recently not only CNG but also the prices of other petroleum products like Gasoline (petrol) and High Octane Diesel were increased.
As prices of everything are dependent and affected by fuel prices, current price increases will make things worse and inflation rates which already are touching skies are believed to further go up into the first earth now.
These price hikes and unavailability of fuel was an eye-opener for people of Pakistan who were thinking optimistically about their fate in 2012 which just started. People also now does not have any expectations from ruling party and their allies. But they wanted to hope that their problems are at least not increase any more but this seems impossible for now.
May Allah Bless Pakistan/people of Pakistan.
Subscribe to us via email, follow us on Facebook and twitter, all from right side of this page.