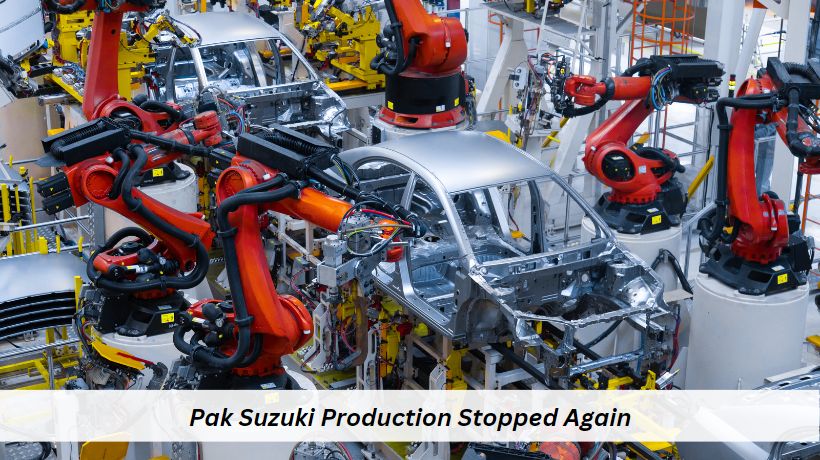 As recently Pakistani automakers are facing hard time keeping the production up due to difficulties they are facing. There are many challenges faced by the auto manufacturers of Pakistan, which all are direct result of bad economy of the country. The one most relevant here is, being unable to imported the needed supplies, specially completely knocked down (CKD) vehicle kits, to manufacture the vehicles due to being unable to open the Letter of Credits (LCs) with banks after the State Bank of Pakistan (SBP) imposed lots of restrictions in order to keep the foreign currency inside country, as recently Pakistan's foreign currency reserves have been falling to dangerously low levels, falling below 3 billion US dollars in the month of Feb 2023.
Pak Suzuki have now announced to keep the production vehicles closed from 13th to 17th Feb 2023. This decision has been made after not being able to import the required supplies to keep the production of vehicles up. Previously in month of Jan 2023 Pak Suzuki had closed down production of its cars for at least three weeks, right from the start of the year.
This current closure of the manufacturing plant of Pak Suzuki from Feb 13th to 17th, only applies to the four wheelers (Vans and cars). The production of Suzuki motorcycles will continue as per routine.
As Pak Suzuki Motor Company Limited (PSMC) is publicly listed company at Pakistan Stock Exchange, hence they are required to communicate about any closures etc and more to Pakistan Stock Exchange (PSX) by the PSX regulations. In this regard, Pak Suzuki have sent following exact message to the General Manager of PSX.
Respected Sir,

In accordance with Section 96 & 131 of the Securities Act 2015 and clause 5.6.1 (a) of PSX Regulations, we hereby convey the following material information:

Due to continued shortage of inventory level, the management of the company has decided to shut-down automobile plant from February 13, 2023 to February 17, 2023. However, motorcycle plant will remain operative. Further update, if any, in this regard will be communicated accordingly.

You may please inform the TRE certificate holders of the Exchange accordingly.

From PSMC Company SECRETARY to Psx GM
We have the exact scan of the letter also available, which is as follows.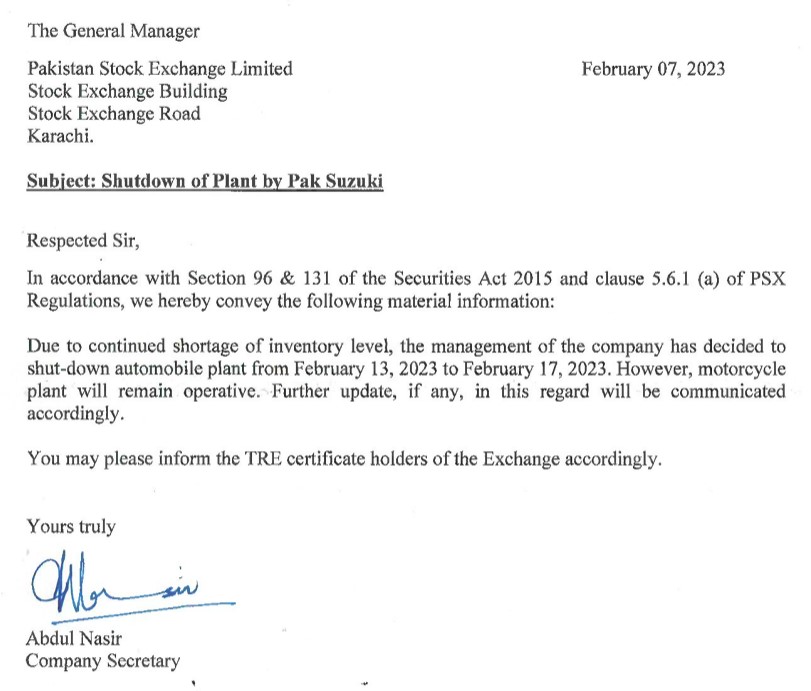 Previously, in month of Jan 2023, Pak Suzuki had notified Pakistan Stock Exchange about a closure for just one week in start of Jan 2023 but upon the issues of inventory not resolving, Pak Suzuki had extended the plant closures in next two consecutive weeks. So in Jan 2023, Pak Suzuki vehicle manufacturing plant remained closed for at least three weeks.
This time as well Pak Suzuki have notified PSX for one week closure, however, after keeping in view, the past, we can safely say, that the closure may beyond one work week as per it happened in Jan 2023. However, we hope Pak Suzuki resolves its issues and the production continues.
We have not heard about any layoffs yet, however, if such closures continue, the auto makers will have more than required staff, which they will be forced to layoff for cutting their costs. Hope, this never happens but is a very likely scenario, when the automakers of Pakistan are not being able to produce the vehicles on full capacity.
However, Pak Suzuki is not alone, Toyota Pakistan which have closed their plants many times in past, have once again their plant closed right now for two weeks, starting from Feb 1, 2023. Toyota Pakistan's plant is closed until Feb 14, 2023 and likely to be opened on Feb 15th. Toyota plant is also closed due to inventory issues. The whole auto industry of Pakistan is facing these same issues, so you may see more closures and the delays in the delivery of vehicles from any manufacturer of Pakistan.