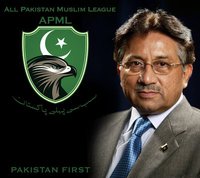 Former Pakistan Army chief and President Pervez Musharraf is to officially launch the All Pakistan Muslim League (APML) on the 1st October, in this regard a number of events will be held in different cities. To be exact these events would be held in Karachi, Lahore and Islamabad. Pervez Musharraf have already created the events page on Facebook where you can confirm whether you are attending the event or not.
Following are venue details and Pervez Musharraf 's words inviting people to these events being held in different cities, Musharraf says and I Quote
Dear Friends & Supporters, final venues for all three cities shall be posted later. Please confirm if you shall be attending in your city to be added to the guest list. Kindly remember to bring your original CNIC with you for security reasons.

To attend an APML launch event on the 1st Oct in your city, please register by calling the relevant numbers below and give your details:

APML Islamabad Secretariat-Director Operations: Mr. Rehan Aslam
Contact: 051-2814270-5 (5 lines)

APML Karachi CEC Member: Mr. Shahid Qureshi
Contact: 03008222209

APML Lahore Member / Event Coordinator: Mr. Saad Malik
Contact: 042-38470485 / 042-35040439

APML Team
Now we have to see how well this new Muslim League do, even they get able to get elected and if luck stays on their side how well they get able put country back to a prosperous track. I have a feeling the their era, if it ever gets initiated would be lot better than current era, which is total failure on part of current ruling party.