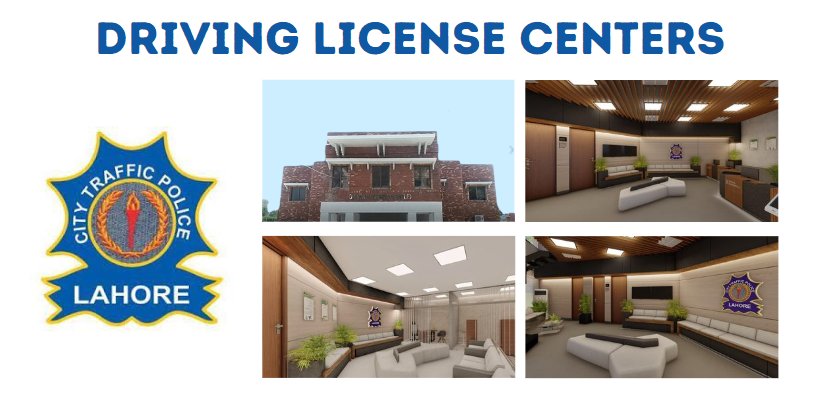 Lahore City Traffic Police is these days busy in taking steps to improve their customer services. Same is the reason they have a 24/7 service driving license center. They have another one which opens for 18 hours daily.
However, the other ones were opening for just five days but now all the driving license centers of City Traffic Police Lahore will open everyday, 7 seven days a week. Also time of ordinary centers, which was from 8 am to 4 pm, is now increased by two hours. So they will remain open from 8am to 6pm 7 days a week.
Services which the driving license centers of Lahore City traffic police cater are issuance of learner permit, regular driving license, duplicate driving license, international driving license and renewal of licences.
List of Lahore Driving License Centers with Timings
Following City Traffic Police Lahore driving license center in Lahore will remain open 24 hours, 7 days a week.
CTPL Smart 24/7 Licensing Center Manawan Traffic Police Lahore
Following City Traffic Police Lahore driving license center have extended timings, it will remain open for extended timings, 8am to 12pm, 7 days a week.
Zahid Gondal Shaheed (CTO OFFICE)
Following City Traffic Police Lahore have regular timings, which are from 8am to 6pm and will remain open 7 days a week.
Greater Iqbal Park Testing Center
Ravi Road Booth
Railway Station Booth
Town Hall Facilitation Center
PKM Mayo Hospital Booth
High Court Facilitation Center
Lahore Chamber of Commerce Booth
Ichhra Booth
Samanabad Booth
Moon Market Facilitation Center
Women Testing Center Liberty
Arfa Karim Testing Center
DHA Testing Center
Bahria Town Testing Center
Cantt Booth
Green Town Booth
Raiwind Booth Pajiyan Chowk
We will do our best to keep the details available on this updated. If you see any discrepancy, missing or incorrect information, do let with us and other audience via comments below. This will allow us to improve the available information on this page. You can also ask for any more required info via comments below, we will try our best to bring it to you.