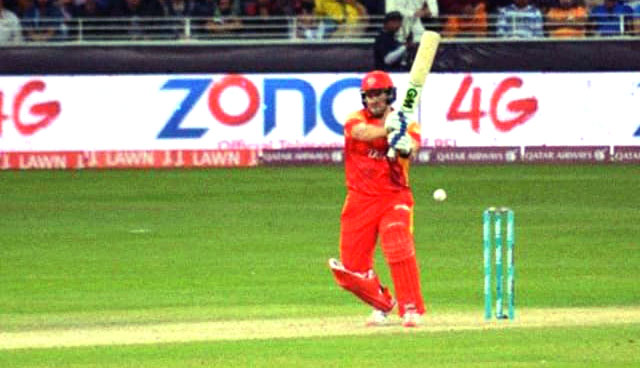 While playing first the Lahore Qalandars gave the target of 166 runs to Islamabad United. From Lahore Qalandars side Muhammad Rizwan was the best scored 50 runs on 27 balls. Other than him, no one else was able to break the barrier of 20s. Bowling performance from Islamabad United side was mixed, however we can safely say the Muhammad Sami did better than others, as he took two wickets in three overs by giving 21 runs.
Islamabad United today played the solid batting innings, Shane Watson scored 79 runs on 47 ball with the help of four FOURS and seven SIXES. Sharjeel Khan also scored 79 runs but on 43 balls, also he remained NOT OUT. Sharjeel did this total using seven SIXES and five Fours. Andre Russel was able to score on 2 runs on 5 balls before he got out.
From Lahore Qalandars side Ehsan Adil was able to take two wickets but he gave too many runs, which is 41 on 3.5 overs. Best bowling economy rate from Lahore Qalandars bowling was of Dwayne Bravo, he game 28 runs in four overs, averaging 7 runs per over. But he was not able to grab a wicket for the Lahore Qalandars.
This was another good day for Islamabad United and Pakistan Super League. Qalandars also put up a good fight today, but it was just not their day today. Best of luck to both of these teams for coming PSL (Pakistan Super League) matches.