PTI chief and cricketer turned politician kicked off his campaign from his native town Mianwali, he said the decision of starting the campaign from his hometown was done because he started of his political career from this city.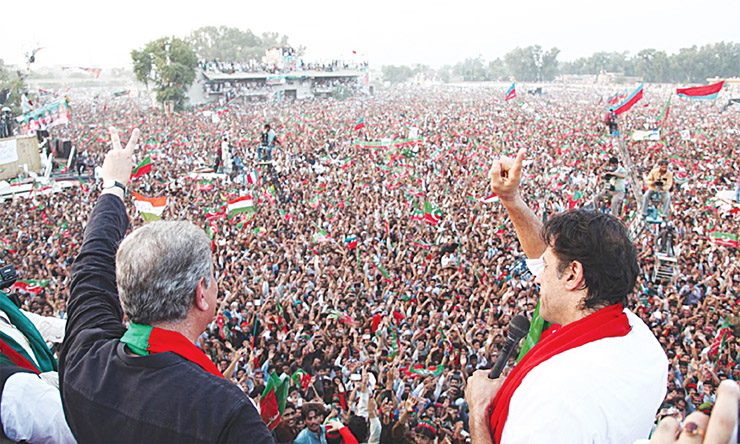 On the dispute regarding the issuance and allotments of the tickets to the workers; he said, he will rectify his mistake if there is injustice happened in the distribution of tickets. He justified his decision by saying that he was in unbearable pressure to allot tickets to his relatives from Mianwali but I did not budge, he said. The allotment of tickets is done purely on merit and awarded to the electables who knows how to fight and win the election, he added.
Both PML-N and PPP had awarded tickets to their relatives but Tehreek-e-Insaf is totally against the native politics. While addressing to the people he once again defended the decision 'PTI is going to contest the election to win it'. I am trying my best to figure out if any of injustice had been made by the parliamentarian board in the allotment in any constituency of any of the Province.
He recalls his opponents and accused Shareef's family for spending Rs40 billion on advertisements to hide their corruption. Khan lashed out at former interior minister Ahsan Iqbal for saying PTI an inexperienced party. "The sharif government has left Pakistan in head to toe debt due to excessive borrowing, Is it the experience you are boasting it about?," he said.
Khan said Nawaz shareef failed to produce money trial of his properties in London. Instead of returning back the looted money of the people of Pakistan, he launched the campaign "Mujhy kyun nikala?" he said.
While kicking off his campaign from his hometown constituency he promised people that if he will be given a chance, you will see an emerging and uprising Pakistan within a weeks. He said he will bring Pakistan on the track back by strengthening the institutions to render the services in their certain limit.
"By the grace of God we will make Pakistan self sufficient which will stand on its own feet" he affirmed.
The upcoming elections have seen massive political weathering yet and rivalries are all set to mark their power by winning the respective constituencies. However all of the sufferings faced by PML-N in the recent times they have shown their strength by winning recent by-election.
This article was written by Staff Member: Mahad Gujjar