As the year started the country was getting ready for elections. The ruling Party in center had less hopes in the elections due to evident reasons, they didn't performed in last five year tenure. Pakistan People Party (PPP) was this way going to lose in elections for sure. PML-N had higher hopes, last five years they had ruled the province with the most of population Punjab. They as well had not done very much in first three years but lots of overhead bridges on roads, laptop and yellow cap schemes given them reason to hope and achieve big. So by just performing in last couple of years they were ready to win big.
Pakistan Tehreek-e-Insaf (PTI) was also ready to take on the PPP and PML-N along with other smaller parties. This party under the leadership of Imran Khan and support of youth of country was set to bring positive change and win big.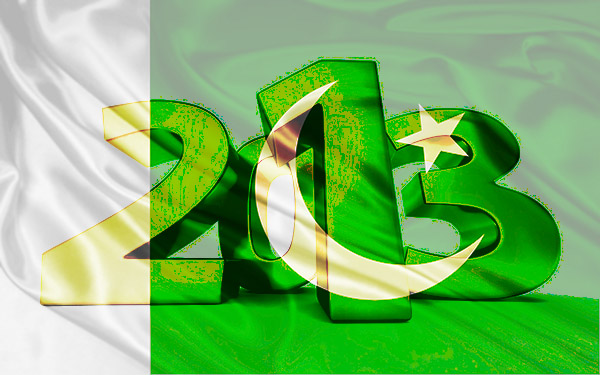 So year started with political rallies and fueled up political activities. Soon elections happened, there was a transition in center from PPP to Pakistan Muslim League – Nawaz (PML-N). PML-N held the Punjab, Young blood of PTI got KPK. PPP did got big win in Sindh.
After elections as PML-N got into power people were hopping for betterment, they hoped that things will at least better than earlier. They were looking up to the budget.
As always the budget never brought any relief to common man in Pakistan. More and more taxes were imposed. Later fuel and specially electricity prices were increased. Fast forwarding to the end of Year people are still out of electricity in homes and Gas in their stoves. PML-N by putting more taxes claims to reviving the economy but what is for common man in it.
PML-N brought a controversial loan scheme for people, so they can get the loan up t0 2000,000 PKR with subsidized interest rate of 8% yearly. Loans have to be  returned in 8 years. They also have some tough conditions like provision of a guarantee by someone who knows you etc. Some people are rejecting this scheme on grounds of interest which is deemed illegal (haram) in Islam. However PML-N puts this project as a positive on their resume. However time will tell how it goes.
People are also unhappy with PML-N as they have been unable to deal with the drone strikes from USA in Pakistan. People mostly dislike them as they are not being done with consent of government of Pakistan, they also are thought to be counter productive as its believed that they mostly kill the innocent people too, specially woman and children along with any terrorists they would have targeted.
Here we are ending the 2013 with same problems we had last year as well as last decade. I hope the PML-N and other provincial governments will try that next year goes better. Other the power game and the parties in power nothing much have changed in the country in this year. Lots of people are hoping change in coming years, will they get it. May Allah bless Pakistan.
Do share your opinions via comments below. Do join us on twitter and Like on Facebook, both by using options on right side of this page. Rest assured, we will keep you updated with latest happenings.