Every year on 14th of August proud Pakistani Nation celebrates its independence day in memory of a day passed 66 years ago when we got Independence from British, who were occupying Indian subcontinent and more importantly an Independent separate state for Muslims of Indian subcontinent called Pakistan.
This year, like past couple of years, the would search giant Google have showed their care towards People of Pakistan through their brand new Pakistan Independence Day Doodle (A customized logo with certain theme) featuring Pakistan Monument. Pakistan monument was built by former president of Pakistan General Pervez Musharraf.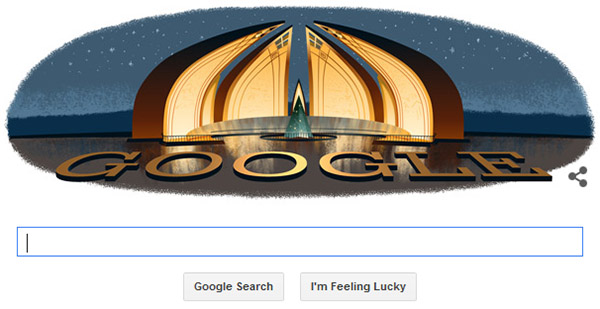 The Monument structure shown in doodle above is situated in Capital city of Pakistan called Islamabad. Monument through its unique structure shows all four provinces and additional three territories of Pakistan. A renowned architect Arif Masood's plan was implemented for monument after a competition among top architects of country.
I loved the fact that Google showed their care towards Pakistani people despite Pakistani government's ban on one of its video sharing website called Youtube. Last Pakistan Peoples Party (PPP) led political government had imposed this ban and now current Pakistan Muslim League – Nawaz (PML-N)  led government is continuing it, however majority of people does not support this ban and take it as unfair internet censorship.
Google n0t only showed the doodle at its Pakistani Pakistan's regional web domain and site Google.com.pk, it also is featured on its international website with domain Google.com
Finally Happy Independence day to Nation from infoPakistan.pk. Do share your opinions and comments below in comment section. LIKE us on Facebook and follow on twitter all from options on right side of this Page, to keep yourself updated with useful info and latest happenings from Pakistan.