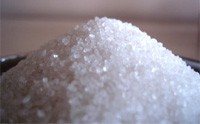 Taking an action on self made sugar shortage and high price of sugar Lahore High Court (LHC) had set the selling price of sugar for millers at Rs. 40 but no one of mills had actually acted up. Reacting the LHC set the price even less at Rs. 36 for millers and Rs. 40 retail price. All of the sugar millers have declined sell sell sugar on rates set by High Court.
Afterwords, court had asked the province officials to make the millers act upon the decision, province officials called a meeting of millers to sit together and decide the convenient prices and a strategy to act upon them, but most of the sugar millers had also denied the attend the meeting.
Now on Friday the sugar stock at all sugar mills have been seized at mills to make them comply with the High Courts decision. Millers still denied to sell the sugar at the price fixed by Lahore High Court, saying that they can even not recover the price of raw material if they sell the sugar at the price fixed.