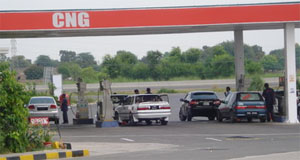 Previously when the all Pakistan association of CNG Fuel Stations was gone on strike by closing the CNG stations country wide, the government had held a meeting with the delegation from the  association and had e nsured them that they will have to wait only till the end of February 2010 and at the end of month the CNG Load Management Plan will be discontinued. But this is not the case now, the latest statement from the administration side tells that they now don't know when it is going to be discontinued due to the cold weather and consumption of natural gas. It also have been told that most likely the Gas Load Management or Gas Load shedding will be continued at least march 2010.
Its another promise which is broken by the current government but at the end the outcome is same that they are now saying they don't know how long this load shedding will lost. Reminding you the previous promises by current government about ending the electricity load shedding and at the end they came with statement that this is not possible at the moment. In fact nothing on earth was done to back those promises up, also in Gas case same is the case.
Not to mention but its again same case of making the public fool as always, current government is very good at making the promises but when it comes to fulfilling them, unfortunately they are no where near, may be they make a promise and forget about that till a time comes when they have to re-thing and get the time period extended.
Another flaw the current country administration have that they don't come up with facts and figures, just simply the promises which are never going to be fulfilled. The better way to gain the confidence of people is to provide the fact, ok this thing was promised, but we didn't got able to fulfill it but things are improved to this level etc and full thing will be achieved in such and such period of time. But that will only be possible when government is really commuted to back their promises and do something for betterment of the country but unfortunately this does not seem to be the case at the moment.
Lets hope for the best, hope that this CNG Load Management Plan is discontinued soon and lots more is done to put the country back on the track of economic growth.